In June, HubSpot announced the release of HubSpot CMS Free. The free CMS tools offer a web page builder and web content management system for businesses who want to explore how incorporating their website into a full stack of tools can help them grow their business through their website. This entry-level version has out-of-the-box hosting and security, custom domains and up to 25 website pages (excluding blog posts and landing pages) as well as many more features.
According to HubSpot customer research, business builders at small businesses say that two of the most critical tasks to starting a business are generating leads and building a website. With HubSpot's free CMS tools, they can help you play a pivotal role in kick starting your businesses' growth as it provides the following:
A fast, secure, reliable website without license or subscription costs for the platform.
All the tools you and your developer need to build a remarkable website
All-in-one CRM
We've put this blog together to dive into more detail about the free version of HubSpot CMS.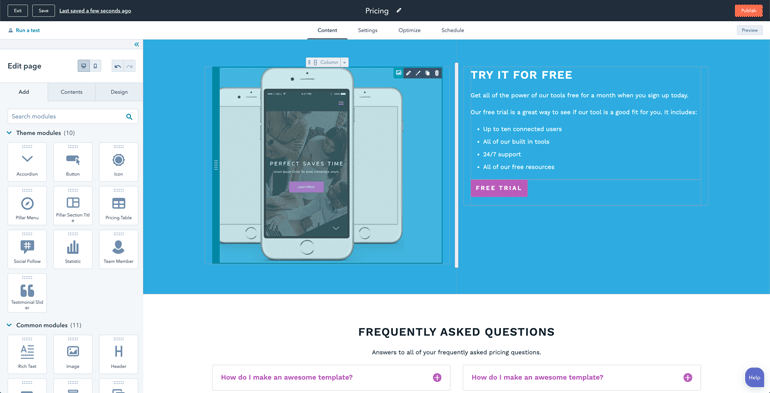 HubSpot CMS Features
Secure your website
With the free version of HubSpot CMS, you can ensure your site has the following features to keep your website secure.
Premium hosting is included out of the box, ensuring your site is always live and saving you the difficulty of a technical setup (or technical fixes down the line)
Content Delivery Network
Standard SSL Certificate
Web application Firewall (WAF)
99% measured uptime
24/7 security & threat monitoring
Custom Domains
Build Your Website Efficiently
What's great about building your website in HubSpot is that it's user friendly and you don't need to rely on a developer to make every change. With HubSpot CMS free you will have access to the following features to make building and updating your website simple and easy.
Drag & Drop Page Editor
Mobile Optimisation
Design Manager
Local Development Tools
Website Themes
Built in AMP Support for Blogs
Asset Marketplace
App Marketplace
Up to 25 website pages (please note, with the introduction of free CMS tools, the page limit for CMS Hub Starter has expanded from 15 to 50 website pages).
1 Blog with up to 100 blog posts, 20 authors and 50 tags
Blog Import
Advanced Menus
Multi-language content creation
Ability to use custom domain
Website analytics to help your business leverage data for better and more agile decision making.
(HubSpot branding on all pages)
Leverage The Full Platform
Utilise the full HubSpot platform with the HubSpot's free marketing, sales, service and operations tools as well as the CRM. We've included some of our top free features below.
Facebook Messenger
Integration
Reporting Dashboards
Email marketing
Basic Chat Bots
Live Chat
Ads Management
Forms
Landing Pages
Conversations Inbox
Form Follow Up Emails
List Segmentation
Why HubSpot CMS?
HubSpot's free tools allow you to quickly and easily build a website to start generating leads as well as build your own brand and begin driving awareness for your business with custom domains. With building your website in HubSpot, the full CRM platform will be available to you, allowing you to save time and focus on the more critical business tasks. The platform ensures that every interaction someone has with your brand is tracked, so you can track trends and improve the experience over time. You'll be able to put the customer at the centre of your business from day one.
HubSpot includes all the tools you'll need to build a website (including forms, live chat, kickback emails, and more) so you can focus on growing your business. If you do need to integrate a system, the curated app marketplace has over 1000 integrations to support you with this.
As you scale and grow, so does your CMS where upgrading for more powerful tools and support is simple and easy.
It's also worth noting that HubSpot inbuilt SEO tools helps you build pages that perform. You can read our recent article on the negative SEO and performance impact of visual composer plug-ins used by platforms like WordPress to find out more about why this is a key issue when choosing a CMS for your website.
Changes To HubSpot CMS Starter
If your business is more mature and the 25 page limit is not for you, you might consider the revised CMS Starter hub instead. It has all the features outlined above but has a limit of 50 pages excluding blogs and landing pages. Plenty for an evolving business and at just £19 a month with hosting, SSL etc all included, it's a pretty good deal too.
Don't forget, you don't have to build your website from scratch to take advantage of this exceptional platform, it's usually possible to migrate a website, like for like onto the HubSpot CMS, making your website more optimisable, better integrated and with a cheaper cost of ownership.
Get In Touch
If you'd like to find out more about these announcements or HubSpot CMS in general and how it can be used to generate leads through a high performing website, then why not get in touch? We are a Diamond HubSpot Partner agency with many years of experience in helping businesses build and optimise their content management systems on HubSpot, we'd be happy to show you how the platform can be moulded to fit your business structure and deliver results.