Maximise Engagement & Results with a Content Strategy
Content is the backbone to every digital and inbound marketing strategy. High quality, focused content can provide you with a competitive advantage, help you engage with your audience, be found online, generate leads or sales and retain your customers. Creating content is a highly cost-effective way of delivering long term growth for your business. But it's not just a case of creating content for the sake of it; it needs to be strategically planned, well executed and high-quality.
The Many Benefits of a Content Strategy
There are many benefits to 'content marketing' that can be amplified by having a clear strategy and plan. A strategy can sky-rocket engagement by creating content at the right time, in the right place and to the right audience. It can help you identify gaps and evaluate opportunities within your current content assets. A strategy can ensure content is created that works towards your overall business goals which ultimately increases ROI and better business results.
Creating a Content Strategy that's Right for Your Business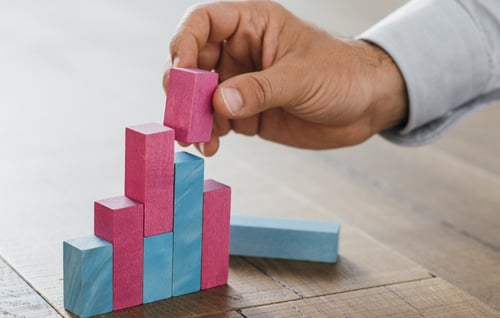 When it comes to building a content strategy, it's not a one size fits all model. Innovation Visual can help you build a content strategy that's right for your business whilst fitting into the wider digital strategy. When planning, we make sure we select the correct tactics that are most applicable to your audience, your business and its goals.
Failure to prepare is preparing to fail, and this is particularly true when it comes to content. Planning is crucial to achieve success from your content. Every piece of content produced should be focused on a specific goal and has to help a specific persona, which is why a plan is so useful.
Defining Your Goals
Before you create your content strategy, there are two things that are needed - goals and personas. It is vitally important that before you even start creating your content, you take the time to define your goals – both micro and macro – what is it you actually want to achieve? Different types of content have different jobs. Whilst some pieces of content will increase visibility in search engines, other types of content may generate leads or increase sales.
Building Your Ideal Personas
To write effective content that resonates with your audience in a helpful and positive way, you must understand them. Understanding how you should talk to them and address their pain points and challenges can help you create more engaging content that ultimately leads the user to perform a specific action on your website. In the planning stage, building and documenting your ideal personas is a vital step.
Content Strategy Planning
Once equipped with useful data and research on your ideal personas, and your goals or the keywords you want to target, your content plan will map out the right content that moves people through the buyer's journey and stimulates a desired action. From blog posts to videos to landing pages to downloadable guides, content comes in many different formats and your content strategy should map out exactly what quality content you will create at different points to meet business needs and deliver results. As needs change, your content strategy will evolve to ensure results continue to move forward.
In this stage it's also worthwhile auditing your existing content. There's no point re-inventing the wheel as you may already have a huge amount of content. An audit can help you identify gaps in your existing content and assess opportunities of where content could either be re-purposed or improved.
Creating Quality Content that Delivers Results
Whilst content should be strategic and delivered to a plan, it should also be of high quality. It should be structured effectively so that users and search engines can understand it and it is easy to digest whilst also conveying the right message in the right format, so that users take action. Our content strategy experts can help you create content effectively, with guidelines to ensure your content really delivers results that you are after.
Once you've created content, the next important step is measurement. Content doesn't have to be static. Using data, web analytics and an understanding of human behaviour, improvements can be made to create an even better piece of content. At Innovation Visual, we have a range of tools at our disposal that we can use to analyse results from your content marketing.
Do You Need Support with your Content Strategy?
If you want your content to really deliver results, then having a strategic plan is vital.
Innovation Visual have a wide range of expertise in content development from planning and strategy, research through to execution. We work in partnership with our clients from various sectors to create a content strategy that is unique to them. If you would like to see better results from your content or require expert advice on creating a content strategy; start a conversation with the us today by contacting us on 0333 772 0509.