The level of information and data that is available through website analytics programs is vast. Good decisions are made on good knowledge. Data is not the same as knowledge – we can transform your data into knowledge and actionable insights.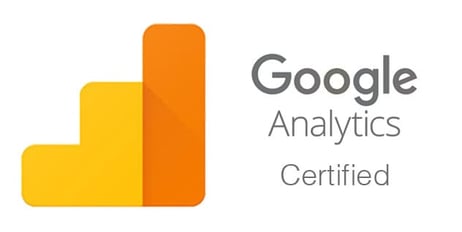 Qualified & experienced Google Analytics consultancy
Our consultancy work around Analytics is varied – from on-going review, analysis and reporting for clients on their website's performance, through to one-off projects to analyse the website data of a business that a client is considering purchasing. The goal is the same to give you the understanding you need of what is happening on a website. We can do this because of our many years of experience in delving into data to get the real stories from it, and because of the training and exams we have taken.
Website analytics dashboard set up
One of our common website analytics tasks is to set up management dashboards for clients. We first understand what you and your management need to know from your website data that drives your business? Is it your numbers of visitors from certain sources or certain regions? Is it the total number of enquiries or just specific enquiries that really drive your business? Do you need to see your paid search spend and the sales it has generated by campaign? We have to start by understanding your business and your management team needs. From this we can create data dashboard elements that allow you and your team to cut through data and get straight to the knowledge. No time to log into your Analytics account and view the data? No problem. We set up dashboards to be emailed directly to the management team members as PDFs at a frequency that is appropriate to the knowledge, whether daily, weekly or monthly. Our Analytics dashboard set-up really does eliminate any of the effort in giving decision makers the access to the right knowledge.

Deep analysis and due diligence
If you are buying a company you would get an accountant to examine the finances. But, what if the company you are buying has a heavy reliance on its website(s) for success? Do you know your hits from your unique visitors? You need to undertake due diligence on their website data to make sure the picture is as rosy as they say. We provide this service to a range of clients, but due to the nature of the work confidentially is paramount. What we can say is that our deep analysis of website analytics data can tell you the reality of a website's performance.
It is important to understand where a website is getting its traffic from and how this is evolving. For example, has a Google update recently seen a tail off in the site's rankings and therefore traffic from important search terms? Is the site owner 'paying' for traffic though paid search putting it at risk of bid inflation? Is the site really that good at converting visitors to buyers, or is the data distorted by repeat customers and in fact the marketing investment required to scale the website sales is far higher than stated? We ask these kinds of questions of a website's data so that with can give you a deep level of understanding of the website's performance and what are the current trends and patterns that can be extrapolated when business planning.

Want to find out more about digital analytics?
Whether you need help understanding your current website performance, providing management with the right information or you are thinking about buying an online business, or one which simply relies significantly on one or more websites for its success, get in touch today to discuss our website data analytics consultancy services. We would love to talk to you and see if we can help.