We live in an on-demand world. We can watch whatever movie we want, listen to any song, buy food to be delivered from a multitude of outlets and we can buy online 24/7. We no longer want to wait. We want whatever we want, now.
Given the context, asking a website visitor to complete a form and then wait, in the hope that someone will reply, no longer looks like a good sales strategy. However, we do this all the time with contact forms. Now, contact forms have their place. But, so did fax machines and we don't rely on these to take orders anymore. As always, we need to change to remain relevant to our audience and if we change better and faster than our competitors, we gain an advantage. Would you like that competitive advantage?
Take Your Conversational Marketing to the Next Level
With our
What is conversational marketing?
It is the engagement of potential and current customers through one-to-one messaging to sell and support the sales process. The tools typically engaged to deliver conversational marketing are chatbots and messaging services that allow conversational marketing to be scaled effectively by businesses.
How do I embrace conversational marketing?
The time is now to embrace conversational marketing. In order to embrace conversational marketing and unlock its full potential, you need to understand the tools needed to deliver those conversations, the framework for success and your buyer personas. Embracing the power of conversations can be a great business decision helping you to engage with your prospects efficiently, generate and quality leads and bring your marketing and sales teams together. As conversational marketing is hugely scalable this can lead to higher conversion rates, increased sales and leads and a higher return on investment.
Our Approach to Conversational Marketing
The Innovation Visual team have years of experience using chatbots and messaging services and tools such as Drift and HubSpot to help our clients develop their conversational marketing strategy. We can help you do the same.
By working with conversational marketing experts who know the tools and the framework for success, your business can streamline the process and generate results far quicker. To embrace conversational marketing, you need to understand how to build conversations that match each stage of the framework; engage, understand, recommend.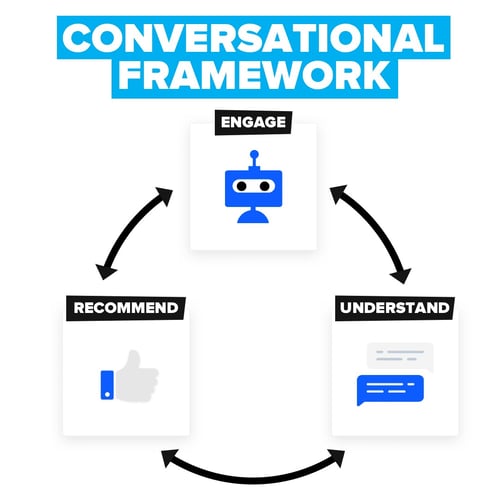 The team can help you not only build the right conversations but the content that supports them too. Different types of pages require different conversations so it's important that the right conversations are created so your website visitors are most engaged. We will use our data-driven minds to assess opportunities, test what works and optimise conversations for even better personalised experiences and better results.
Conversations Online at Scale
Chatbots have come a long way in the last few years. If you are still thinking that chat technology is impersonal and relies on people to support anything more than the most basic conversations, you need to think again. Modern chatbots can created sophisticated chatflows and, when combined with marketing automation workflows, action things and deliver results for your potential and current customers.
The automation possibilities of this generation of chatbots mean that you can automate solving your visitors' problems and requirements at scale 24/7. From raising specific support tickets with the right people to visitors booking demonstrations with your sales teams at a time that works for everyone chatbots are employees that never sleep and never get tired and always follow best practice. Why would you not want to adopt their use when people are now so happy to interact with them.
Start a Conversation with Innovation Visual
Don't wait to start embracing the power of conversational marketing and let your competitors capture those opportunities before you.
If you want our help in implementing and managing a successful conversational marketing strategy, then chat to us today. We would love to hear from you so contact us using the chatbot to the bottom right or chat to us over the phone by calling us on on 0333 772 0509.