We were delighted to be asked to work with the Simone Thomas Wellness team earlier this year to provide website development and digital marketing services designed to help them meet ambitious growth goals.
About Simone Thomas Wellness
Simone Thomas Wellness is an award-winning health and wellbeing supplement brand specialising in hair loss management with an emphasis on supplementation and gut health. Simone Thomas Wellness sells their supplements via their eCommerce site. Simone Thomas Wellness take a holistic approach to health, looking at the bigger picture of their clients' lifestyles to help them improve their health holistically, inside and out. Simone Thomas Wellness' star products originated with Biotin & Ginkgo Hair Care Plan, but now offers a variety of supplements to target your specific health concerns. You can find out more about Simone Thomas Wellness on their website here.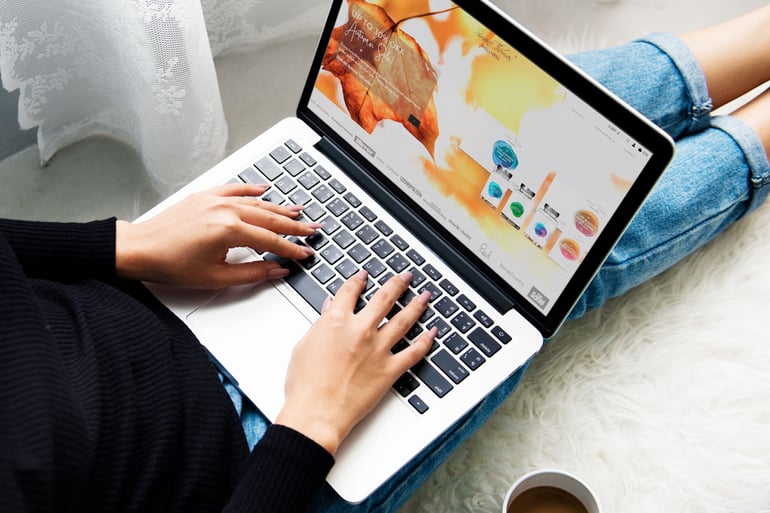 Supporting Simone Thomas Wellness with Digital Marketing Services
Since starting work with the Simone Thomas Wellness team, we have designed, developed and launched a new Shopify eCommerce website. Currently we're focusing on best practice SEO to drive visibility and target keyword ranking with the aim of delivering greater volumes of high-quality, high intent traffic to the site.
Website Development
Our first priority for Simone Thomas Wellness was the development of a new purpose built Shopify eCommerce site. The original Simone Thomas Wellness WordPress and WooCommerce site delivered poor performance in terms of attracting the right traffic and did not effectively convert new users into purchasers. Our focus during the planning and development was to ensure that the various user journeys were carefully thought through and the user experience was optimised for conversion, providing consumers with a frictionless experience and guiding them through the buyer journey. The site was successfully developed within a tight timescale in order to align with the launch of a significant influencer campaign planned by the client.
SEO and Content Strategy
A key element in the design and development of the new website for Simone Thomas Wellness focused on best practice SEO. Our developers ensured the site was designed, arranged and constructed in a way that would successfully support a well-structured consistent programme of search engine optimisation.
Alongside the development of the website, our team are also implementing an ecommerce-specific SEO strategy. Our strategy development relies heavily on data, by using the (carefully checked and verified) data available from Google Analytics and other tools, we are able to understand where the site is performing well and where it is not performing so well. This insight guides our strategy and enables us to identify and successfully address areas of weakness.
Key to the Simone Thomas Wellness SEO strategy is understanding the buyer personas. Who the customer is and what is their job to be done, not what the product does but what the customer needs it to achieve? From there we can design effective content strategies and buyer journeys to answer their questions and position our clients as experts. We also implement the right conversion rate optimisation (CRO) and user experience (UX) that best fit and suit the audience.
PPC
While an effective SEO strategy is important, SEO can take time to deliver results which is why investing in PPC can be an effective way to target specific audiences and increase conversion rate quickly. Following the launch of the website, we planned and started the implementation of a best practice SEO strategy, but as effective SEO can take time to deliver results, we will also be using judicious paid search via Google Ads and other platforms to deliver effective return with acceptable cost per conversion. Our first step is to audit the company's existing biddable media activity and ensure it is effectively structured, targeted and managed for optimal ROAS (Return on Ad Spend). Our aim is to quickly increase the quantity of online traffic the website is receiving, and to increase the quality and relevance of the users visiting the site, in order to drive volume of conversions, in the most time and cost effective manner possible.
We Can Help Your Business Too
We're thrilled to be working with a brand as exciting as Simone Thomas Wellness and we can't wait to deliver them even more fantastic results via creative and effective digital marketing implementation. If you would like to find out how we can help your business grow, then get in touch with us today to discuss how digital marketing can help you achieve your business objectives.