We are delighted to welcome Senior Web Developer, Adam Duff to the Innovation Visual team. Adam is a highly experienced Web Developer and is an excellent addition to our growing development team.
Welcome to the Team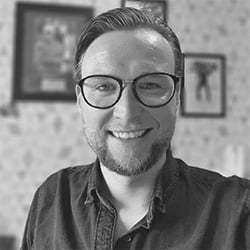 Adam brings with him an exciting range of experience that covers traditional HTML and CSS development, as well as extensive experience in a range of platforms that include CMS's such as HubSpot, Shopify, WordPress and Magento, to name just a few.

Since joining, he has worked on a number of very successful ongoing client projects. They include the optimisation and evolution of existing sites to improve performance, as well as the planning and development of new, effective B2B, B2C and eCommerce websites that deliver on short, medium and long term client objectives.

As a senior member of our growing development team, Adam's role is strategic. He works closely with our expert digital marketers to ensure that his implementation work complements best practice SEO and is aligned with client goals at each stage. His depth of expertise has already proven invaluable, and the results of the team's combined work speak for themselves.

If you'd like to find out more about how we implement our SEO best practice website development projects, then you can read more here. Or why not simply get in touch and we can explain how our approach to website development works so well?

Now Adam has been working with us for a few weeks and is already an integral part of the Innovation Visual team, he commented

"My first few months working at Innovation Visual has been fantastic. Being surrounded by such a talented team and working for a company who really care for their staff has been wonderful, and allowed me to deliver real, positive results in only a few short months." – Adam Duff, Senior Web Developer.
Interested in Working for Innovation Visual?
We are a dynamic agency and have seen significant growth over the past 18 months, as a result we are recruiting to meet demand and have a variety of opportunities available. If you are a great digital marketeer or looking for your first digital marketing role, we would love to hear from you! Send your CV to ellen@innovationvisual.com or get in touch via our website.