Work Experience at Innovation Visual
Hi, my name is Grace and I've just completed my taster week internship at Innovation Visual near Guildford, Surrey.
I am in my first year at The University of Birmingham Studying Business Management. While exploring the range of business opportunities available, I was curious about the prospects that a career in digital marketing had to offer and chose to accept Tim's kind invitation of a week's work experience to find out more.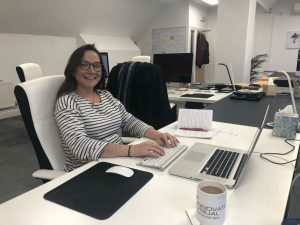 After just one week I can say for certain that digital marketing has many intriguing layers which I had not anticipated. These were revealed to me by the Innovation Visual team who set me productive and useful tasks, always guiding me through and helping if I had any questions.
On Monday morning I took part in the team meeting and was asked a couple of introductory questions that are key to Innovation Visual's work. These questions were what is SEO and what is PPC?
Feeling a little put on the spot, I answered 'software engineering organisation' for SEO and 'paperclip' for PPC. Unfortunately, these answers turned out to be wrong, but the good news is I now know! SEO stands for Search Engine Optimisation and PPC for Pay Per Click.
Learning about Search Engine Optimisation
I was involved in many projects which involved SEO, one of these being keyword research. This was an activity I had not appreciated previously, but soon learned just how important it was. This involved looking in detail at words related to the client's services, how many times they were searched for and the cost per click of each one. This resulted in 13,000 words being produced from the SEO tool used and from that I needed to filter out the negative keywords and group the useful ones in order to identify what keywords the website needed to be optimised for and what keywords to write paid search for.
It had never occurred to me that there was a theory behind Google searching nor that there were specific tools and companies like Innovation Visual who work on optimising websites and content to appear for these searches to help their clients websites rank well in Google and Bing. It became clear that this was crucial for any business who had an online presence, as failure to appreciate the importance of SEO could seriously harm a business' potential for driving traffic to their website. It was amazing to see how much the Innovation Visual team knew about optimising a website for search and just how many factors had to be considered when doing so!
Keyword research was not the only skill I learnt during my week with the team. I learned more about accountancy thanks to Tim (which will be a great help with my degree), the importance of content on landing pages and websites, and the basics of how to optimise a page for search engines.
Looking Forward to my Summer Digital Marketing Internship
For me, it was an eye opening experience to see a business in action and put the theory which I had learned in university lectures into practice. I was amazed at the tools which enables a company like Innovation Visual to analyse data and deliver results for their clients.
This has been a fantastic opportunity for me and I was lucky to have such a welcoming and helpful team support me throughout the week. I was really pleased to be invited back and I look forward to returning in the Summer when I can learn more about the digital marketing industry.
If you would like to find out more about Work Experience and Digital Marketing internship opportunities at Innovation Visual then please feel free to send your CV by email along with a description of why you would like to gain experience in digital marketing to info@innovationvisual.com