Hi, my name is Grace and I have just completed my five-week internship with Innovation Visual. I am currently going into my second year at the University of Birmingham studying a Bachelor of Science in Business Management.
Having previously enjoyed a taster week working with the Innovation team during my Easter holidays , I was excited to come back and learn more about the complex and intriguing layers of digital marketing. However, I underestimated just how much I would learn!
The Role of Content in SEO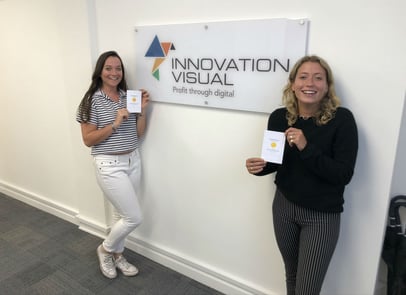 Creating content is a valuable part of digital marketing and search engine optimisation (SEO). Content plays a major role in determining how well a website ranks and during my internship I was able to see how the Innovation Visual team write and optimise content to help improve the rankings of their clients' websites. I learnt about the importance of keywords and search terms in website content and how this helps webpages rank for a particular word or phrase. With a high rank you can gain more visibility, a higher click through rate and therefore a higher possibility of sales. I also learnt that when creating content it should be original and unique – not copied from elsewhere online, as Google will penalise you for duplicate content.
Once completed, I was given the opportunity to upload the content onto the website. To do this, you have to go into the 'back end' of the website by using Content Management Systems, such as WordPress. I found this valuable experience as I got to see the logic behind how a website is formed and the process of creating an effective web page. With the tools I gained from WordPress, I could further my knowledge about web development and the way in which search engine results work.
Writing Effective Meta Titles and Meta Descriptions
Good meta titles and meta descriptions are key if you want to have a webpage that ranks well. The meta title is the title which is displayed in search results when you are searching for something on the internet and are used by search engines to understand the content of a page. I learnt that these titles therefore not only need to describe the page, but also catch the reader's attention and answer their search query. The aim of the meta description is to try and increase the click through rate (CTR) by persuading potential customers to visit the page in question. I found Meta Descriptions very challenging to write. It is recommended that a description has a maximum of 160 characters and I struggled writing persuasive content which didn't sound clunky, due to these limitations. However, with help and encouragement from the team, I found it easier and it became an enjoyable challenge.
Digital Marketing Awards and Exams
Innovation visual are proud to be Google, Bing and HubSpot Partners with all the team having a plethora of industry certifications against their names. I had the opportunity to take two exams during my time here and managed to pass both, Google Ads' Fundamentals and HubSpot's Inbound certification. These taught me things which I was previously unaware of and solidified the things which the team had previously explained to me.
Thank you Innovation Visual
I would like to take this opportunity to thank the Innovation Team for having me. I have learnt more than I ever imagined to about the world of digital marketing and how businesses work and operate. The team were always happy to help whenever I had questions or queries. Digital marketing concepts can be very complex and difficult to understand if you are a newcomer, but with the team's expert knowledge they could explain principles in a clear and easy to understand way.
If you would like to find out more and work experience and Digital Marketing opportunities at Innovation Visual, the team would be happy to hear from you. Send your CV along with a description of why you would like to gain experience in digital marketing to info@innovationvisual.com.