After much excitement and anticipation, Innovation Visual are proud to say that we came home as winners from the Waverley BIG Awards 2018 event on Friday night, held at the Lythe Hill Hotel and Spa in Haslemere. The awards ceremony celebrated and recognised the very best in business within the Waverley districts of Haslemere, Godalming, Farnham and Cranleigh.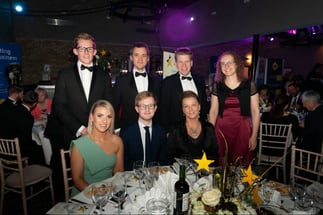 Innovation Visual Recognised as an Outstanding Business
On the night, we were nominated for two awards; the 'Staff Engagement Education and Empowerment' and the 'Godalming Chamber of Commerce President's Award.' Innovation Visual were up against some very tough competition for both awards, however we were delighted to be announced as winners for the 'Godalming Chamber of Commerce President's Award', which is a fantastic achievement for the team, recognising Innovation Visual as an outstanding business in Godalming.
The Godalming Chamber of Commerce President's Award recognises the best business within the region that has the ability to strike a successful balance between delighting customers, engaging with employees, being innovative and supporting the local community.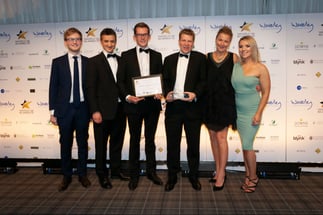 Innovation Visual has gone from strength-to-strength this year. Our client base has continued to expand, subsequently leading to our team doubling in number over the last year. Despite this growth our core focus remains the same; to deliver outstanding data driven, results focused online marketing services to our clients. We do this through ensuring our employees are engaged and empowered to make the right decisions for our clients and that they receive the right training and development to be able to do their job to the highest possible standard.
The team are really proud that the hard work and efforts that are made on a daily basis by the team have been recognised at the Waverley BIG Awards and our trophy will be taking pride of place on the Innovation Visual window sill.
"It was fantastic for the Innovation Visual team to be recognised as an outstanding business in the Godalming region. This award is a reflection of the hard work that the team have put in this year to deliver success for our clients. We would like to thank the Godalming Chamber of Commerce for selecting us as winners and congratulate all other winners. It was a brilliant evening celebrating the success of Waverley based businesses." – Tim Butler, Managing Director of Innovation Visual
Well Done to all of the Waverley BIG Awards Winners and Finalists
Innovation Visual would like to extend a BIG congratulations to all of the Waverley BIG Award Winners and finalists. It was a fantastic night celebrating the success of Waverley based business and it was amazing to hear about all of the different businesses' success stories.

Thank you to Waverley Borough Council and the respective Chambers of Commerce for organising such a fantastic event. We do hope to have another fantastic year and hopefully attend the Waverley BIG Awards once again in 2019!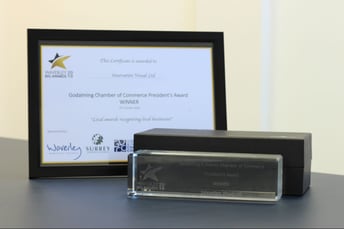 Contact Innovation Visual
If you would like to know more about Innovation Visual's award-winning digital marketing services, which includes search engine optimisation , paid search and content creation, then please feel free to contact our team.