2017 has been another great year for Innovation Visual and its clients with many exciting changes. The most striking of the changes was our new office. With our growth requiring a third office change in the same number of years we have moved into a much larger space in the beautiful Tanshire Park. Thanks to all of you who came to help us celebrate the new office. Special thanks to Diverse Interactive who brought their VR and AR experiences for people to try, Chris & James from Google Partners for their talk on voice search and Karen Botha from the David Shepherd Wildlife Foundation for telling us about the valuable work they are doing to protect wild painted dogs in Zimbabwe. Thanks to all who contributed to the fund-raising efforts on the night. We managed to raise more than £300 for the foundations cause.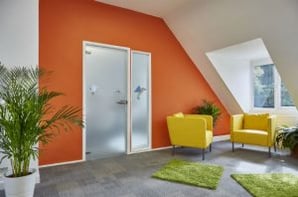 Our clients have had a successful year and we are proud to have supported them with digital marketing services. It has also been great to welcome new clients to working with Innovation Visual. From market leading stand up paddle boards to innovative hearing protection and organic personal products to a historic property development, we are proud to be working with leaders in their fields and help them fulfil their business potential.
Awards & Google Elevator
Our work for our clients has been recognised with our winning of awards from Google Partners for Video and Mobile advertising. The stand out accolade was however Innovation Visual's inclusion in Google's prestigious Elevator, which sees the 30 best agencies join in a six month intensive program. Elevator is designed to work with agencies at a strategic level to develop how they deliver results for their clients and evolve into being the leaders in the UK agency space. The graduation dinner at the Groucho Club in London, attended by Pete, Alex & Tim, was a great event. The talks included one from the creative head of Google's Zoo project.
Being a HubSpot Partner
Having used the HubSpot software for many years for clients we decided it made perfect sense to become a HubSpot Partner Agency in 2017. We have already seen a number of our clients start using the HubSpot growth stack for both sales and marketing and we will be putting our new website live on the HubSpot CMS in the New Year. Thanks to Steve in Dublin as well as Dan Tyre (HubSpot employee number 7!) for their valuable input to help us deliver more to our clients through the use of this technology.
Growing Team & Growing Skills
2017 has been the year we have welcomed more newcomers to the team than ever before. Alex, Clotilde and Emily have all demonstrated their talent and desire to deliver digital marketing success to our clients and the results have shown this. The team's expansion has been supported by even more training to ensure that we stay ahead of the ever-changing digital marketing landscape for our clients. Between them they have spent more than 500 hours on training and our qualifications board is now looking fuller than ever.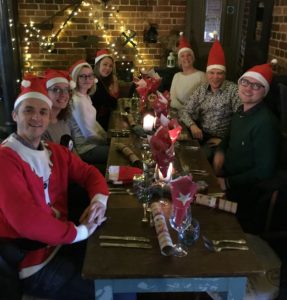 We had a little, fun awards ceremony for our staff at our recent Christmas lunch. It is the team that work so hard to deliver results for clients and we are very proud of what they do. In no particular order (as they say on X-Factor) the awards were:
Team Player Award - Emily
Problem Solving Award– Oktawiusz
Accuracy Award – Sylwia
Tackle Anything Award – Alex
Client Management Award – Pete
Customer Delight Award – Clotilde
Thanks to You, Our Customers, For What Has Been Achieved
The biggest thank you of the year goes to you, our customers. Without you none of what we have accomplished could have been achieved. Thank you for choosing to work with us. Many of you have been working with us for many years now. We really appreciate your business and the opportunity to work with you. We hope that you have been pleased with the results and enjoyed working with us as much as we have with you.
Your business has also allowed us to make donations to a variety of causes, including the David Shepherd Wildlife Foundation, The Amphibian and Reptile Trust, and Medasset. We have also been supporting 12 year old Phoenix Goodman in her bid to develop her skills in Taekwondo with the ambition of competing at the 2024 Olympics. It has been an amazing year for her with another British title and gold medal, as well as wins and top three finishes in a number of UK and European competitions.
Merry Christmas and Looking Forward to 2018
Finally, we wish all of you the very best for Christmas and we look forward to continuing to work and collaborate with you in 2018 and all the success that this will bring.
Thank you once again,
Tim & the Team