Every month we review all the newest functionality updates that HubSpot has released to ensure we are completely up to date and can share all the most important and exciting news with you as soon as it is available.
In March, many new features and updates have been added to the HubSpot platform that we can't wait to share with you! Discover some of the most notable HubSpot product updates March 2023 to aid your marketing efforts.
What Updates Did HubSpot Release in March for Starter, Pro and Enterprise Customers?
Sales Hub
Coloured Deal Tags
Sales reps will now be able to create coloured deal tags which make it easier for your sales team to visually scan the board view. This helps when knowing which deals to prioritise.
Super admins are also able to create up to ten deal tags which are each based on a set of conditions. These deal tags will also appear on board cards when the conditions are met.
This update is live now and is available to Pro and Enterprise HubSpot users.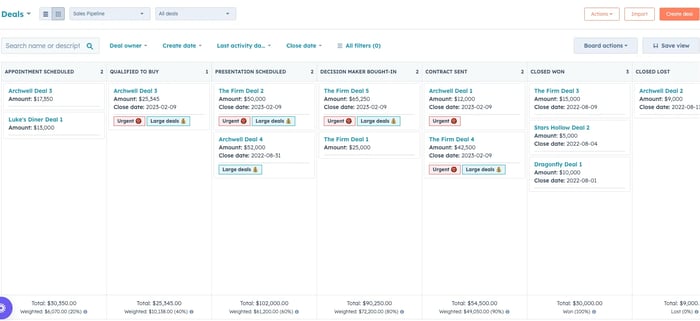 Customise 'Create Record' Form by Pipeline
Admins will be able to customise their 'Create record' form in the Object Settings by adding properties to the form. These properties will then be visible or required in all cases.
When a user clicks "Add Pipeline Logic", they can now select one of their deal or ticket pipelines. They will then be able to select properties that will surface conditionally on the form for that specific pipeline.
This new update is live right now and is available to Pro and Enterprise HubSpot users.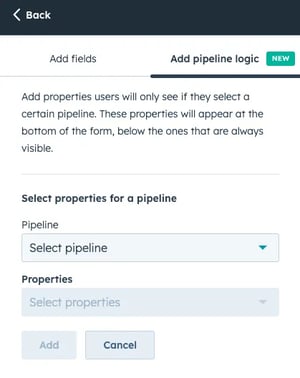 Service Hub
"Rating" Type Questions in Custom Surveys Now Support Calculating Average
The rating questions are now the type "number". This means that the responses to these "Rating" questions are stored as numbers which enable more options when reporting, such as calculating averages for the question responses across multiple surveys or one survey over time.
This update is live now and is available to Pro and Enterprise users of HubSpot.
Restore Deleted Products
Products could not previously be restored in-app. This new feature brings the Recycle Bin into the Products Library to allow users to quickly undo incorrect Product deletions.
Expanding the Actions button in the top right corner and clicking 'Restore records' will open the Recycle Bin where you can then find your deleted Products.

Sales Hub & Service Hub
Email Log & Track Default Settings for Admins
Super admins are now able to configure email login and tracking defaults for users of Chrome and Office 365 extensions.
This latest update is in public beta and is available to Enterprise and Pro HubSpot users.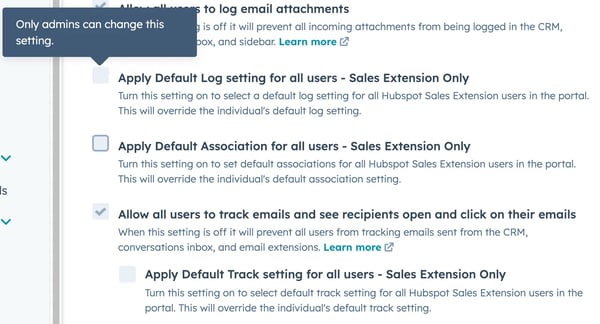 Two Playbook Templates Available by Default in New Portals
Two playbook templates are now available by default in new HubSpot portals.
Previously, users were only able to start using playbooks after someone had created one.
Customers that didn't understand the value of playbooks or knew how to use them were unlikely to discover them. Therefore, HubSpot now present these templates right out of the gate to help users.
This new feature is live now and is available to Pro and Enterprise HubSpot users.
Marketing Hub and CMS Hub
Resolvable Comments
HubSpot users will now have the ability to resolve comments that have been posted in the collaboration sidebar.
Colleagues typically comment to suggest changes to a current asset that's being worked on. Before this update, actioned comments stayed in the collaboration section, whereas now there will be a clear way to show that the work is complete.
This is currently in public beta and is available to Pro and Enterprise HubSpot users.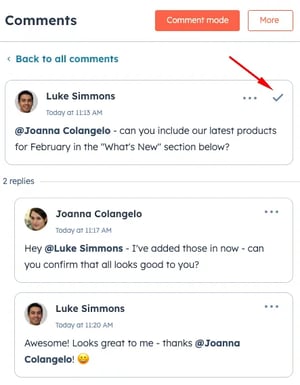 Improved Comment Notification Emails
Users now have details on the asset type and asset name where a comment was created. The contents of the comment are displayed directly in the notification email, as well as any previous comment on the same thread. This includes details of the authors and timestamps of previous comments.
This update is in public beta and is available to Starter, Pro and Enterprise HubSpot users.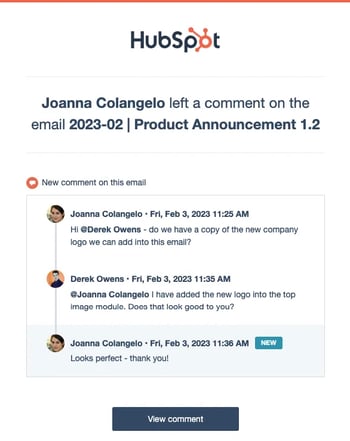 Custom Properties in Marketing Campaigns
The marketing campaigns tool will now support:
Creating custom properties and property groups
Viewing and managing default and custom properties, as well as custom property groups
All property types except calculation and score
Saved views and filters
Native support in campaign experts
Customisation of available properties in the create campaign form
Powering the newly added default properties and existing default properties
Custom campaign properties are available in the custom report builder
This update is currently in public beta and will be available to Pro and Enterprise users
Operations Hub
Data Sync Health List Export
Pro and enterprise customers can now export all of the critical data sitting in sync health:
All of the records that are in sync
All of the records failing to sync
All of the records excluded from the sync
This update is live now.
HubSpot CRM Platform
Create a Random Sample From Any List
Customers are now able to easily pull a random sample from a list. This is live now!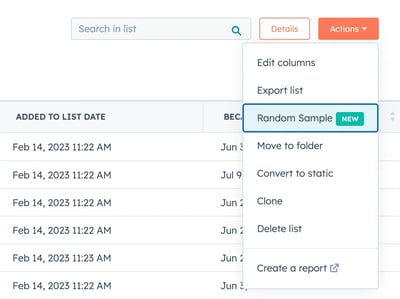 Data Model Overview Design Improvements
The following improvements have been made and are live now:
Cardinality - you can now see if two objects have a 1-to-1 or 1-to-many association
Filters - the existing object filters have been moved from the side bar to the top of the page, giving you more space to interact with the data model overview and create a better HubSpot experience
Full page - the full page experience has been improved, where you can now zoom in and out, as well as interact with each of the object cards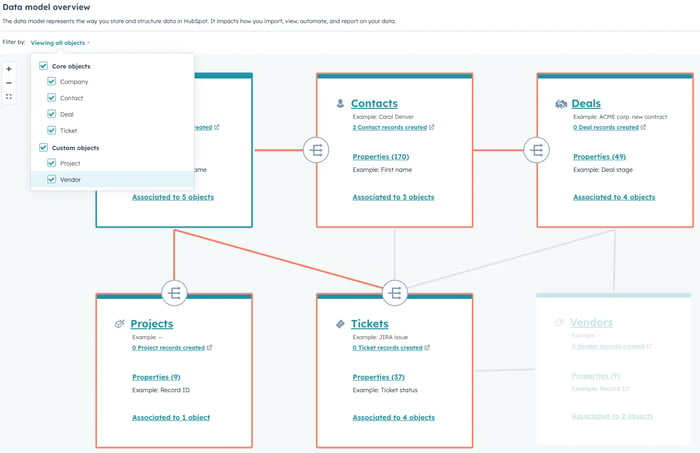 Saved Views in Tasks
Task users are now able to save a set of filters as 'saved view' in the tasks app, which makes it easier to customise your task view and keep you focused on the most relevant work to you and your teams. This is live now.

Unassign a User's Paid Seat During User Deactivation Process
Super admins now have the ability to unassign a user's paid seat during the process of deactivating a user. This update is live right now.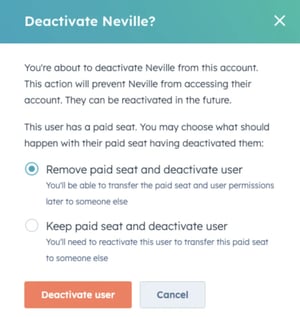 Workflow at Risk on the At-Risk Workflows Tab
Workflows with errors tab has been updated to At-risk workflows, providing users with information and tools to quickly prioritise these workflows using risk dates, types and the option to ignore them until they reoccur.
All workflow customers can see and use the At-risk tab. This new feature is live now.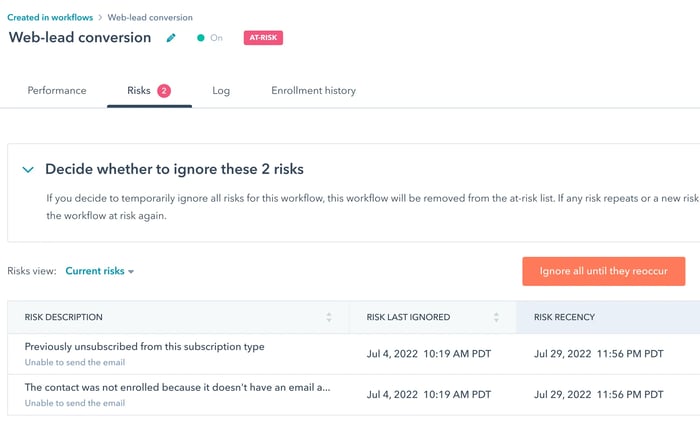 Bot Filtering Status Light
A status indicator on the email post-send page will now show you whether your Bot Filtering setting is currently turned on or off.
If this is turned on, the email's primary open rate will exclude bot activity and therefore only show the estimated percentage of opens by humans.
This update is currently in public beta.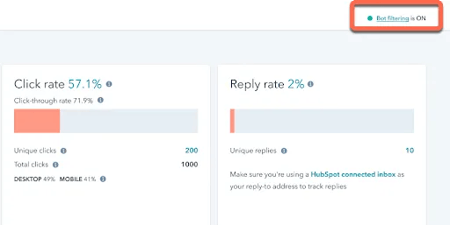 Session Timeout for User Inactivity
HubSpot is introducing session timeout for web browser sessions after an inactivity period of 24 hours.
This will improve security for customers and help prevent any unauthorised access.
Centralised Audit Log of User Actions
A new centralised tool for super admins lets them view and filter for various actions that have taken place across their HubSpot account. This feature is live right now.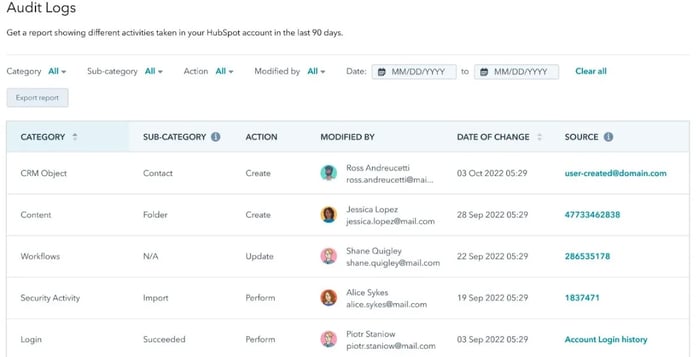 View Users Without 2FA in Security Centre
The Security Centre displays a list of users who don't have 2FA set up when you click "Resolve" on that criteria. Admins can then view the user's permission via a deep link and use their email address to reach out and help resolve this issue. This feature is live now.
Check Each Month for More HubSpot Update News
These are just a handful of the many interesting updates featured in March 2023, and we're looking forward to utilising these new updates with our clients! We consistently post monthly updates on the platform that HubSpot portal users can benefit from, which you can find in our knowledge hub section. Be sure to check back soon!
Our HubSpot Experts at Innovation Visual Can Help
At Innovation Visual, we are a digital marketing agency with an expert MarTech team that provide a range of inbound marketing services to help transform businesses and deliver results, using tools such as HubSpot. Our HubSpot CRM experts are here to help so don't hesitate to contact us for more information!
We also have a range of other marketing specialists and offer a wide variety of digital marketing services, so don't hesitate to contact us to discuss your needs.