It has been a fantastic week so far for the Innovation Visual team attending INBOUND 2018. The growth of HubSpot since it was founded in 2005 is simply staggering. HubSpot would never have come about if it wasn't for the company's co-founders Brian Halligan and Dharmesh Shah. Without their foresight to see that there was a gap in the market for inbound marketing, none of us would have been attending INBOUND.
Put The Customer First
One of the themes that HubSpot has been focusing on during INBOUND has been 'Grow Better', but the question is how do you grow better? It was this exact question that Dharmesh set out to answer in his talk.
For a company to 'grow better' they must put the customer first. The aim is not just to satisfy the customer, but to delight them. To be able to do this your company needs a culture in place that means every employee is committed to putting the customer first.
To put the customer first requires companies to deliver an exceptional customer experience and Dharmesh explained that 'improving your experience 10X is much easier than improving your product 10X'.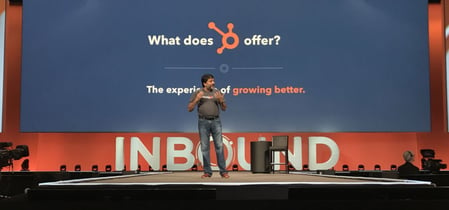 How Does HubSpot Help Businesses Grow Better?
The key to providing an exceptional customer experience is to understand what customers want from their experience with your company. HubSpot offers software as a service to make this possible, which in turn contributes to companies being able to grow better.
This requires a relationship to be built between the people and the companies they buy from. To do this successfully companies need to put customer values first. This should not be too difficult for business owners or employees because we are all customers. We can all draw on our own personal experiences of customer service and we know when we've had good and experiences. Make sure that your company is paying attention to the following customer values:
Earn their attention, don't steal it. Give the customer something they value before you take something they value like their time.
Solve for the success of the customer, not for the success of your systems. The sales process does not need to be the same for every single customer. They could be further along the buyer's journey, so solve their own individual problems quickly.
Own your screw ups. Everyone makes mistakes. Don't hide your mistakes when you do make them. Say sorry, be sorry and make it better. A great example of this is KFC's reaction to running out of chicken (see the ad below).
Customers don't mind paying, but they do mind being played. Make your pricing open, clear and fair. Make sure you include pricing information on your website, which is easy to find. If there is no pricing information, then 75% of users look for an alternative website that does. Confusing pricing means that people do not buy as often.
Don't block the exiting. If your company makes it easy to buy (which it should), don't then make it really hard to leave. You should make it easy for people to cancel their order and this will actually make it more likely for them to come back in the future if they decide to cancel their order this time around.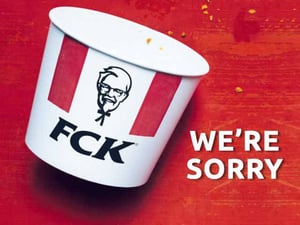 Do The Right Thing
Dharmesh summarised by explaining that as a company you should always do the right thing. Even when it's hard. Especially when it's hard. The power has shifted from the company to the customer. The customer holds the cards now and the companies that realise that and work towards providing the best possible customer service are much more likely to succeed.
Your customers can become your biggest evangelists. They will tell their friends about your company, recommend you and this will lead to more new business. Prioritise customer experience and your company will see the benefits.
If you would like to find out more about HubSpot and how it could benefit your business, then contact our team.