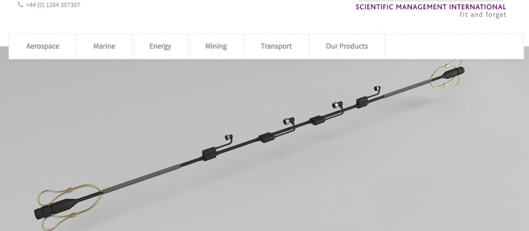 Innovation Visual were tasked with creating a website to reflect the unique qualities of a company that produces designs, manufactures, supplies and installs, bespoke pressure moulded cable harness systems, through-hull penetrators and pressure moulded connectors for a wide variety of applications across the most challenging and hostile environments on the planet.
=The first challenge was to find relevant imagery to add visual engagement without our being allowed to photograph what are top secret materials and products.
Our solution was to use to use the products CAD files to create unique illustrations in 3D of various parts of the components toadd that visual element. We could not have asked for more, the visual result was outstanding. The 3D visuals really created an impact and were totally relevant to the website without giving away any manufacturing secrets.
Scientific Management International
Scientific Management International already has a 25 year unblemished record for reliability established across 10,000 installations, so its standing in the market was clear.
The website therefore needed to reflect their professionalism and show case their extraordinary cable technology across many manufacturing areas such as marine, energy, mining and transport.