The State Of B2B Online Payments
The B2B (Business to Business) sales process can be complex and challenging to drive. From complex DMUs (Decision Making Units made up of multiple stakeholders) to developing an efficient and effective proposal process that converts, there are multiple friction points that can cause drop off at each stage of your pipeline. However, evolutions in technology mean that quoting, billing and taking payment need not be one of them.
In 2020, the global B2B payments market size was valued by Allied Market Research at $870 billion, and is projected to reach $1.91 trillion by 2028, growing at a CAGR (Compound Annual Growth Rate) of 10.6% from 2021 to 2028. With this level of predicted growth, it is safe to surmise that customers are likely to come to expect similar payment flexibility in their corporate B2B lives as in their personal lives as a consumer. The challenge faced now by B2B businesses, is to plan and act quickly to deliver the solutions to meet those expectations. If they don't, they run the risk of adding, rather than removing friction from the sales process, which could ultimately impact conversions and revenue generation in the short, medium and longer terms.
Changes In B2B Online Payment Technology
The impact of COVID-19 on the digital landscape for B2C businesses selling online is widely known. It accounted for a global drop of 11% in overall payment volumes when the worldwide economy effectively shut down. However, less well reported is how the subsequent ecommerce boom of the past 2 years has influenced change in how B2B business manages quoting, billing and payments.
Traditionally, technology in B2B payments has lagged behind that of the B2C sector with just 33% of pre-pandemic B2B payments made online, compared to B2C's 70%. Nearly half of all global business transactions $58 Trillion in 2016) are done on paper. A number of factors have contributed to this lag, they include:
Lack of investment
Tech infrastructure
Integration issues
Lack of recognition of its importance
However, as online payment technology has evolved at an expedited pace as a result of the pandemic, providers have begun to recognise opportunities to leverage it for the B2B sector too.
Source: https://thepaypers.com/expert-opinion/using-payments-to-drive-growth-the-amex-perspective—1250890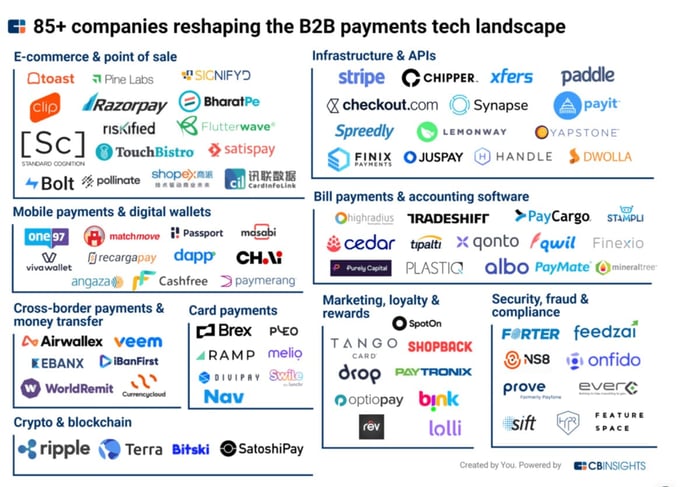 Source: https://www.cbinsights.com/research/b2b-payments-tech-market-map/
While it is common to see a number of new platforms emerge to meet new marketplace needs (think Klarna!), we have also seen existing platforms add to their offering in order to service customers looking to take advantage of this change to enhance their own service provision. An example is HubSpot who launched HubSpot Payments to service B2B businesses that want to offer their customers a better buying experience with natively-built CRM powered payments. Following the announcement of the launch of this functionality in the US, HubSpot's share price jumped 16% in 2 days. https://www.nasdaq.com/articles/why-hubspot-stock-jumped-16-this-week-2021-10-15
About HubSpot Payments
While this functionality has only been released to the US market so far, HubSpot Payments has been designed to bring the buying journey inside the CRM and keep the process in one place, with increased visibility. HubSpot has partnered with Stripe (A HubSpot partner since 2018) to power HubSpot Payments. The tool enables users to create secure, shareable payment links to collect digital payments, leverage recurring payment functionality to enable and streamline subscriptions, and deliver quotes with embedded payments links to reduce friction in the purchase process. There is also a native integration with HubSpot's quotes feature in Sales Hub.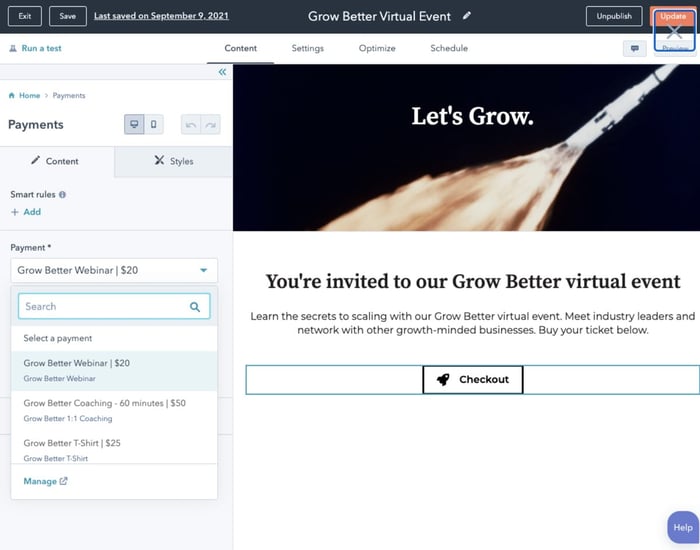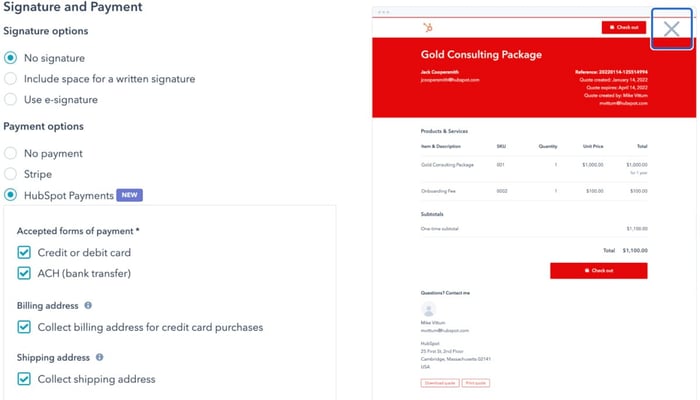 Source: https://www.hubspot.com/products/payments
Why Should B2B Businesses Consider Offering Digital Payments?
A recent survey by Gartner found that 77% of B2B buyers found that their latest purchase was very complex or difficult to complete. While it isn't measured directly, that statistic implies that those 77% were unhappy with how that purchase process worked. By association, it is possible that dissatisfaction colours the customer's feelings about the company and could represent a risk to the customer relationship and any potential advocacy or referral.
Customer satisfaction is a key metric for most businesses. Those that choose not to evolve their service provision based on empirical evidence are actively risking adding friction and drop off to their sales process, increased customer churn and a reduction in competitive advantage.
While customer satisfaction and the desire to remove friction from any process that leads to a sale should be motivation enough, the facility to prepare and send quotes, issue billing and manage payments online via a single integrated online tool has got to be an attractive prospect. By taking advantage of the evolution in digital technology, businesses have the potential to eliminate confusion between sales and finance, process quotes and invoices quickly and accurately, expedite payments and even automate parts of the payment management process.
While B2B online payment technology is still in its early stages, it is clear that it isn't going to be a flash in the pan. B2B customers will expect payment flexibility and digital solutions to deliver that. Those businesses that invest in implementing the right payment technology will be investing in competitive advantage, customer satisfaction, process efficiencies and ultimately the success of their business.
If you'd like to talk to us about B2B payment technology and how best to integrate the right option with your tech stack, then please get in touch.