Following on from Phoenix's success at the British National Championships in Manchester, Innovation Visual are pleased to bring you an update on the continued progress of our rising taekwondo star!
Lead up to the National Championships
Winning doesn't come easy and Phoenix put in a lot of hard work before winning her Gold medal at the championships.
Phoenix and her teammates attended an intense training camp in Belgium over the weekend of the 1st to the 3rd of September. Phoenix enjoyed the weekend and came away feeling excited and even better prepared for the National Championships. Phoenix was even awarded the Keumgang training top to highlight her hard work and commitment over the weekend.
BTS September Athlete
Every month British Taekwondo South (BTS) shine the spotlight on one athlete to raise awareness about their progress in the sport. This was a great opportunity for Phoenix to raise her profile and give her a confidence boost before the National Championships began.
What's Going on in October?
After the National Championships Phoenix is enjoying some well-earned rest as there are no competitions to attend in the month of October.
Of course, our taekwondo star can't stay away from the sport for long, so she'll still be training hard and is going to attend the 2017 WTF World Taekwondo Grand Prix at the Copper Box in London. This event lasts 3 days and will bring together the best Taekwondo athletes in the world. This will give Phoenix a chance to watch her role models in action, experience a big event and maybe even pick up some tips!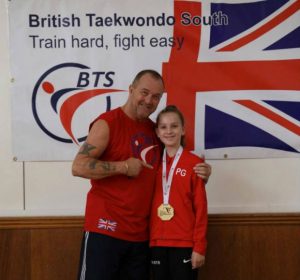 November Preparation
Phoenix will be preparing for a busy November by attending a training day in Stoke on the 5th of the month. Her training will give her the important groundwork needed to excel in her up and coming competitions in Zagreb, Croatia, for the Croatian open on the 11-12th of November followed by the Quest Open in Sheffield a week later.
The Innovation Visual team cannot wait to see how Phoenix continues to progress throughout November and we wish Fi all the best and good luck for the competitions. We look forward to hearing all about her success!