Innovation Visual are proud sponsors of 11-year-old Taekwondo Star Phoenix Goodman, and are pleased to bring you her November update. November has certainly been a busy month for Phoenix, so there is plenty to catch up on!
Trip to Croatia for the Taekwondo Open
Phoenix flew to Zagreb, Croatia to take part in the Taekwondo Open. She had a demanding weekend learning to adjust to late competition times. This presents a challenge, particularly when it comes to nutrition. Phoenix must choose to eat the right foods during the day to keep her energised for performances coming late in the day.
The Open reconfirmed that it is just as important to get your diet right alongside your training to achieve success at the highest level. Phoenix is certainly learning a lot about the nutritional side of her training and this will only improve with time and experience.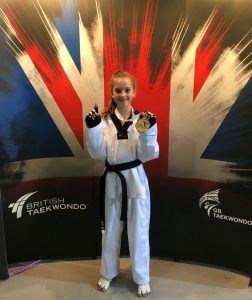 Phoenix did fantastically well in her second G1 competition, coming home with a Bronze medal after winning two of her fights and narrowly losing out in the third. The Innovation Visual Team are immensely proud of Phoenix's efforts in the competition.
Quest Open 2017 in Sheffield
There was not much time for Phoenix to rest after returning from Croatia as she took part in another competition called Quest in Sheffield. Phoenix had two great performances and secured a Gold medal to add to her growing collection!
Phoenix's performance helped her team BTS secure an overall first place trophy! Overall, it was a fantastic day for the team.
Future Competitions
December began with Phoenix flying out at 4am to attend the International Park Cup, which took place over the weekend of the 3rd and 4th of December. Without the sponsorship support of Innovation Visual Phoenix would not be able to attend these international events and it is fantastic for us to know we are helping Phoenix show her potential.
The future will bring new challenges, especially as Phoenix is now at the upper end of her weight category. She has been fighting in the -33kg Cadet category, but the Park Cup could be her last competition in this category before moving up into the weight category above.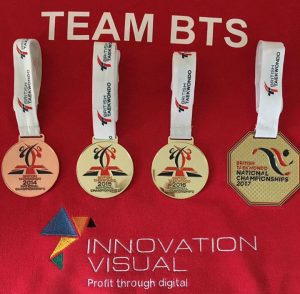 There are a number of upcoming events that Phoenix will be participating in, including:
European president Cup, 2nd -5th February
Potential competition at the Dutch Open (G1 Event), 9-11th March
British national Championships, February
Keep Up the Good Work Phoenix!
The Innovation Visual team wish Phoenix the best of luck in her up and coming competitions! It is fantastic to hear about her continued progress in the sport of taekwondo.