We got a letter through from Google today congratulating us on being one of the first Google Partners with Mobile specialisation. It made me think about conversations I am still having with people about mobile web use. Fortunately it doesn't happen very often but there are still some businesses that think that mobile web browsing is still niche. Its not, we have been telling you its not for sometime! If you require any final convincing keep reading.
Global Mobile & Tablet Traffic Exceeds Desktop
So for the first time ever, in October 2016 more traffic was on the WWW from mobile & tablet devices than desktop devices. That's something you have to take notice of. Now the cynics might say, "ah yes but that is distorted by users in developing countries". Well look at the individual country trends and yes, the UK and USA split does lag behind this, but in the UK we are talking 44.4% of all traffic in October 2016 was mobile & tablet. That's getting very close to half.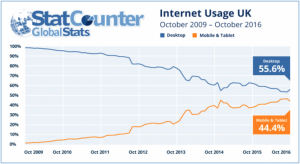 Where Google is making more money? Mobile
During its Quarter 3 2016 earnings call, Google credited mobile search as one of the primary drivers of it's solid quarter. Google has been helping and working with Partners like Innovation Visual to help our clients maximise impact on mobile for some time now. It predicted more than 50% of searches being on mobile this year more than a year ago. Google's efforts to capitalise on the shift from desktop to mobile resulted in it increasing the number of paid ads it shows in mobile search results. At the end of Q2 2016, the company introduced a fourth text ad in its mobile search results. Click volume — the number of interactions with ads served on Google's mobile search — grew 28% year-over-year (YoY) during Q3 2016, according to a report by marketing agency Merkle.
Paid Search is More Important on Mobile
If you think that good organic rankings alone will allow you to have an effective search marketing strategy, be warned! That fourth mobile ad has an effect. Paid ads are more effective on mobile because the screen size limits the number of initial results users see. These users are then more likely to choose out of the first few results they see, rather than scroll further down the page. On average, the top four organic results — those beneath paid ads — took 93% of non-paid clicks, according to a study by Mediative. Just 7.4% of all clicks on mobile were below these results, compared with 16% on desktop.
Mobile is Vital for Local Search
More and more people are using their mobile when out shopping, or doing things. It is now natural to search for alternative suppliers of a product as you stand outside a shop window looking at a product. You are not going to use a desktop machine to do that! These searches are not limited to map based searches. With Smart Phones having GPS the search engines know exactly where that person is standing so results for "converse all star near me" is likely to be more accurate than on a desktop.
Mobile Friendly is a Serious Ranking Factor
Your site doesn't work on mobile, its not going to do well on Google's organic search results regardless of the device. They want you to make your site mobile friendly and if its not you are being punished for it right now. Its as simple as that.
Need more convincing?
Apple doesn't, it is now including search ads in its App Store on mobile devices. Clearly it thinks that there is money to be made on the mobile sponsored results. If you are only now coming around to the need for mobile then you are probably going to be worried about the next statement. Mobile isn't going to be just phones in the future. The way the world is connected is changing. Visionaries like Dr Martin Stillman-Jones have been telling us (those who are enlightened enough to listen) for years that the Internet of Things (IoT) is the new frontier. From fridges to cars this will have an effect on how we search. Voice search being activated by many of these devices, and the possibility of devices having different sized screens (cars) or no screens at all (Amazon Echo) will change how we need to operate in the ever changing digital world. So if you haven't already, get your website mobile friendly now, because the next wave of change is on its way!