The Parliamentary Review is an annual publication from the Houses of Parliament that highlights those organisations and businesses that are leading the way in the UK in terms of innovation and setting

standards of best practice in their own industries. From education to technology, the publication is seen as the de-facto guide to those businesses that are leading the UK economy and public sector.
With over 700,000 copies produced and sent out to all FTSE business executives, senior public sector leaders as well as all members of the Houses of Parliament, the Parliamentary Review is an essential guide to best practice in the UK. The publication promotes the setting of higher standards and achieving more across 12 different sector titles. Innovation Visual has been included in the technology section for its work in achieving results for clients through digital marketing. This reflects on our constant desire to improve the results for their clients' businesses through innovating digital marketing processes and setting the best practices in the industry.
"Innovation Visual is a specialist digital marketing company and in their Review piece they elaborate not just the challenges they are the market have faced over the last 10 years or so but also looks forward to the future and all the at will be necessary to continue to succeed in it" – Rt Hon The Lord Pickles, Chairman of The Parliamentary Review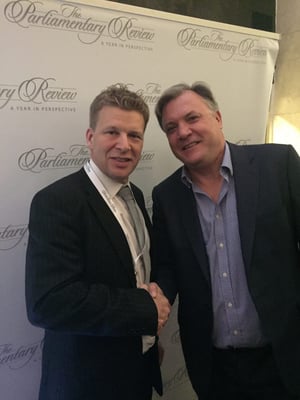 As well as a large number of printed copies that are distributed throughout Parliament, heads of the industry including all senior decision makers of FTSE listed companies, The Parliamentary Review is widely available online. Take a look at Innovation Visual's article.
London Gala Evening Event
On Monday 1st October our directors Tim & Joanna Butler attended the Parliamentary Review gala evening event. With leaders from the organisations and businesses included in the publication along with politicians, we were honoured to be invited to the event held in the Banking Hall in the heart of the City of London. The speakers at the event included Ed Balls, former Shadow Chancellor, but perhaps more well known for his Strictly Come Dancing performances and former Chancellor of the Exchequer, now Editor of the London Evening Standard, George Osborne.
Along with the string quartet and the excellent catering, the speeches made for an informative, interesting and thoroughly enjoyable event. With several hundred people attending it was buzzing with atmosphere throughout.
What Does this Mean for Innovation Visual?
The Parliamentary Review highlights that Innovation Visual have been recognised for their innovation and best practice in digital marketing. We have already been recognised in 2017 by Google as one of the top 30 digital agencies in the UK. This further accolade gives us a further opportunity to build on our reputation for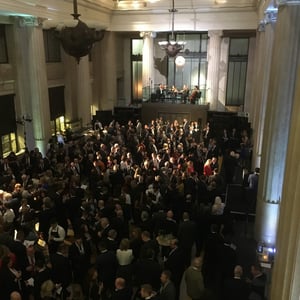 excellence and delivery of results. Using the latest techniques and proprietary processes in search engine optimisation, paid search advertising and online content creation, Innovation Visual work to increase website visibility, lead generation and customer acquisition for their clients in the UK and across the globe.
Whilst being recognised in this way for our abilities and innovation is great and makes us proud as a team. However, our real achievements come from our delivery of results for our clients day after day. We will remain focused on working hard for our clients and bringing our knowledge and expertise, which we have been recognised for, to further their business goals through digital marketing. If you want to discuss how we may be able to work in partnership with your business to improve your results through digital marketing please contact Jo Laubscher on 07766 545956 or email jo@innovationvisual.com.