Innovation Visual are delighted to announce that we have been nominated for not one, but two awards at the Waverley BIG Awards which this year is taking place on the 19th October 2018 at the Lythe Hill Hotel and Spa in Haslemere.
The annual awards celebrate excellence in business as well as social enterprises within Waverley and the surrounding areas. They recognise various aspects from awards in innovation to customer delight and much more.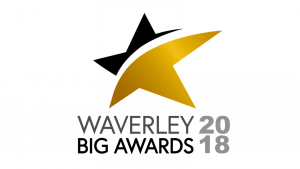 Innovation Visual Waverley BIG Awards Nominations
The two awards that Innovation Visual are proud to have been nominated for include:
The Big Award for Employee Engagement, Education & Empowerment
This award recognises companies that go above and beyond to engage, educate and empower their workforce. Here at Innovation Visual we work in a supportive environment that encourages staff to complete tasks to a high standard. We ensure staff are engaged in their work, with training time allocated each month so that team members are continuously learning and are equipped with the right skills to do the job. Staff are rewarded for their hard work through bonuses, flexible hours and annual trips abroad.
Godalming Chamber of Commerce President's Award
This award celebrates the best organisation within the Godalming catchment area in the eyes of the Godalming Chamber of Commerce President. It recognises well-rounded organisations that delight customers, develop employees, are innovative and give back to the community. At Innovation Visual, we aim to have a balance between these four areas by delivering high standards of results to our clients as well as sharing extra knowledge on digital marketing by regularly hosting educational events. Our charitable donations include being a member of 1% For The Planet, meaning we donate at least 1% of our turnover to charity, which has helped to support the David Shepherd Wildlife Foundation to conserve endangered wildlife.
Good luck to the Waverley BIG Awards finalists
The event promises to be a great night, and the team from Innovation Visual are looking forward to attending the awards ceremony. Winning an award will certainly be great achievement for the team and recognise the hard work and results that have been achieved for our clients.
The Innovation Visual team would like to take this opportunity to wish all the finalists the best of luck!
Contact Innovation Visual
If you would like to know more about the digital marketing services we offer, then please contact our team who will be more than happy to help.