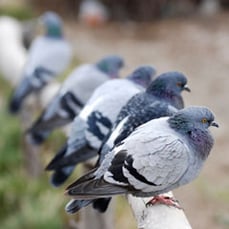 Ever since Google released their "Pigeon" update back in 2014, Geographical search has become an essential subject for all SEO professionals and webmasters to consider. And the importance of local SEO has continued growing since.
The 'Pigeon Update' was an entirely new algorithm that was first released on the 24th July, 2014. Its purpose is to accurately provide more relevant local search results, whilst also adhering to the more traditional ranking signals.
Google states that "it has better accuracy over distance and location rankings".
Although, the 'Pigeon Update' was an unofficial term first used by external companies, many other online resource portals have frequently used the phrase too and it's seemed to have stuck.
Geographically Customised Search Engine Results Pages
Depending on where you are located in the world, even if searching for identical search term, you are more than likely looking for different results than that of someone based in Australia for example.
This is particularly true if looking for any services, like a mechanic, barber or restaurant, as there is only so far that a potential customer would travel for each of these services.
This is opposed to informational searches, which can still be different very depending on your location, such as; weather, lottery, football results, as well as film, book or game release dates.
When you are searching the web via a logged in device, Google knows your geographical location and will customise its SERPs accordingly to show only the information that is most relevant to you.
How Local Search Benefits our Clients
A number of our clients are already benefitting from localised search optimisations that we have undertaken. For each new client one of our first tasks is always to create or review their Google+ Local For Business or Google Places account.

The following includes various working examples of localised SEO for a few of our clients.
Cannon Pest Control in Clapham
We've been sequentially registering each of Cannon Pest Control's local depots with their own verified Google Places account for each location. This enables them to show up in multiple searches relevant to their nearby locations.
For Cannon Pest Control we had also spent a lot of time creating unique content for each of the location pages for each of their local pest control branches, such as Cannon Pest Control London (Clapham).
Amazing Grace Lingerie UK
In addition to generating local search exposure for their 'Luxury Lingerie Boutique in Haslemere'.
Amazing Grace Lingerie also use maintain a Google plus account, which they use as an active social channel to keep customers updated with upcoming product launches and developments:
https://plus.google.com/113017875691146126268/posts
Butlerz Dry Cleaning
For Butlerz Dry Cleaning we have created dedicated location pages for the various specific services offered, such as; Dry Cleaning in Haslemere.
Butlerz also manage a Google+ account and share updates and news to their online following from this:
https://plus.google.com/102955110946880669372/posts
ArchitectureLIVE
As ArchitectureLiVE cover a wider geographical audience, of up to 20 miles around Surrey, we had decided to optimise their completed case study pages for the targeted locations that these were set.
This Victorian house redevelopment had been optimised for search terms related to 'Architects in Guildford' for example.
ArchitectureLIVE also run a Google Plus Account that allows them to keep their customers up-to-date with recent projects and news.