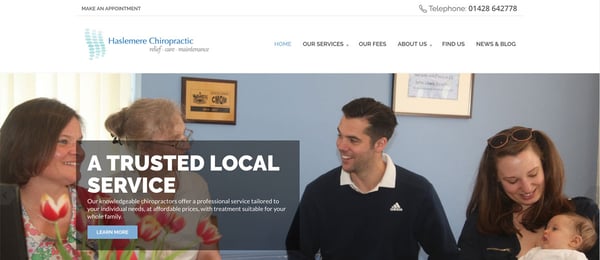 Haslemere Chiropractic Clinic, within the wonderful town of Haslemere, has stood as a centre of excellence and high quality treatment within the town for many years; ensuring every patient is treated with the upmost respect and that the rehabilitation performed provides a long-term solution to any discomfort or issues that may have been experienced. With the launch of their new website, Haslemere Chiropractic Clinic can now ensure that their online interactions & services are just as excellent as those that are undertaken at the clinic.
Working closely with Michelle Carrington, who is a qualified chiropractor at the clinic, Innovation Visual established the requirements needed in order to ensure visitors to the website were presented with outstanding experiences and accessibility, as well as complete transparency as to what certain treatments will involve and how they will be undertaken; with convenience and best intentions in mind. Such factors ensure that the clinic is providing users with all the necessary resources and information they need to effectively engage with the business, whether it is getting in touch with the friendly members of staff to book an appointment or finding their way to the premises of the clinic; which can be easily found through the clear directions and address details provided on the website.
Collaborating with Haslemere Chiropractic Clinic has been an absolute pleasure to say the least, and we can say that this thought is reciprocated by the team at the clinic too, as Michelle Carrington specially reached out to us to thank us for the professional attitude displayed, as well as the quality of the communication from the Innovation Visual team. A proud moment for us to say the least!
If you would like to see the newly launched website, please follow the link below: