Technology is constantly advancing, and this is changing the way people interact with content and advertising on a day-to-day basis.
In the UK, 70% of adults access the internet on-the-go using their mobile phone. People are now accessing content via digital devices more and more. It is important for businesses to embrace this change and adapt their marketing strategy to make the most of the changes.
By 2020, it is predicted that companies will spend 75% of their total marketing budget on Digital Marketing. Failure to appreciate and act on the growth of digital marketing will leave businesses behind their competitors who are investing in this area and are already seeing the benefits.
Why is Digital Marketing Important?
People now prefer to consume digital content rather than more traditional hard copy content, such as newspapers or magazines. It has become increasingly easy for people to access content via their smartphone device and this is changing the way people interact with content.
82% of adults in the UK access the internet on a daily basis. This statistic shows just how important it is for your business to have a strong online presence. More and more people are searching online for products and services. It is vital that you invest in digital marketing to ensure that your business is visible online.
Digital Marketing Can Be Cheaper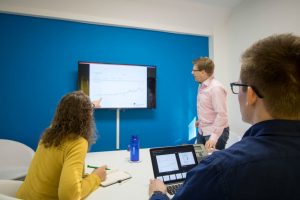 Traditional marketing methods such as TV, magazine and newspaper advertisements are expensive. Very expensive in some cases. Coupled to this is the fact that it is extremely difficult to work out how many customers purchased from your business as a result of seeing your ad in a magazine.
There is no accurate way of tracking how successful that advertising campaign has been and whether you have achieved a good return on your investment.
Digital marketing offers a number of affordable solutions to advertise your business online, that can be cheaper for your business and achieve a much better return on investment.
The Power of Paid Search
Most companies have an advertising budget and one of the most difficult decisions is how and where to spend that budget.
Successful American businessman, John Wanamaker is famously credited with saying, "Half the money I spend on advertising is wasted; the trouble is I don't know which half." This may have been true when Mr Wanamaker was alive, between 1838-1922, but paid search advertising now allows you to understand exactly where your money is being spent.
Paid search advertising gives you the ability to track exactly how much you are spending, how your ads are converting and therefore you can accurately calculate your ROI. You know exactly how much money you're spending on advertising, and unlike John Wanamaker, you'll know exactly how much money you're wasting, as the data will tell you if some of your ads are not converting.
Reach Your Target Audience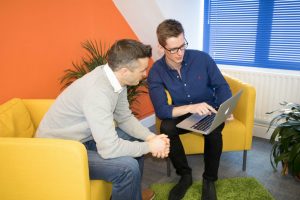 Paid advertising through Google AdWords or Bing AdCenter allows you to specifically target people who are actively searching for your products or services. You can refine your targeting using different factors such as location or age. You can also show your ads to people browsing the internet on subjects related to your business or based on their own interests. This allows you to put your ads in front of the people who are likely to be interested in your product or service, which will help to increase engagement.
Unless you're advertising in a niche magazine, it's very difficult to know who will see your ads and if they will be interested in what you have to offer. If you put an ad in the local newspaper, a high majority of the people who see it may not even be interested in your product or service. If someone is using Google to search for 'personal trainer in Godalming' and you are a personal trainer in Godalming, then you can create an ad that will show for that search query. Paid search gives you the ability to reach your target audience.
Search Engine Optimisation
Appearing in search results is not just down to luck, but a result of search engine optimisation. Companies that invest time and money in optimising their website for search engines will see better rankings, more traffic to their website and increased sales.
Google handles 40,000 search queries every second and this number is only going to grow. When people have a question, they turn to a search engine for the answer. If your website provides that answer or solution and the page is well optimised, then your website will be visible in search engines.
SEO, when done correctly, will get your website found for the search queries you want to be found for.
Email Marketing
Email marketing has been around for a while, but the way you can use this marketing channel has developed. Have you ever been on a website, looked at a product, added it to your basket, but not actually proceeded to make that purchase?
You may have received an email from that company reminding you not to forget about that product. This sort of targeted, personal email, shows a high success rate for encouraging consumers to go back to the website and make that purchase. Your business can even offer a discount code, which will further incentivise the consumer to make the purchase.
Email marketing is a powerful tool when used in the correct way. Just be careful not to overly use email, which can lead to consumers becoming frustrated with your brand, unsubscribing from your mailing list or even worse, hitting the spam button.
Social Media Marketing
The number of people active on social media is huge. Facebook alone has over one billion users and more than 100 million people use Instagram every month.
Social media is a great way to target people depending on their interests. For example, if your company sells running trainers, then you can target people on Instagram who are interested in running and follow running related accounts. In the same way as paid search advertising works on Google, you are putting an ad in front of someone who already has an interest in that product or service.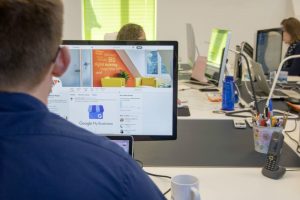 It is not just social advertising which is important, but also having company social media accounts. If you invest time in social media. then you can build a great following and every follower is not just a potential customer, but also an ambassador for your brand. If you share a great piece of content and one of your followers shares it with their friends, then you could gain a new customer.
It is worth investing time in building your social media presence across platforms that are relevant to your business. Social media is a powerful marketing tool when used correctly and can increase brand awareness, giving your brand a voice and engaging with consumers.
Voice Search
One of the fastest growing developments in the digital marketing sector right now is voice search. 20% of searches on Google are now done by voice and this figure is expected to rise to 50% by 2020.
Your business should be actively preparing for the growth of voice search by optimising your website for voice related queries. Voice search is changing the way people search for information online and it is important for businesses not just to be aware of this, but also to take action and prepare their websites to give themselves an advantage over competitors.
Optimise for Conversions
The aim of most businesses is to attract customers and get sales. Online marketing gives you the opportunity to provide consumers with a clear call to action, showing them what the next step is to solve their problem.
Do you want them to buy a product, subscribe to your newsletter or download a guide? When someone visits a page on your website, it should be obvious what you want them to do. Offer clear calls to action and this will encourage consumers to act in the way you want them to.
Digital marketing allows you to optimise for conversions in a way traditional marketing simply does not. Seeing an ad online makes it much easier to engage with and act than seeing an ad in a magazine. Think about how best to interact with your potential customers. Digital marketing provides a number of options for reaching your target audience and encouraging engagement with your product or services.
Digital Marketing is Important. Don't Ignore It.
It is important to keep up to date with the latest digital marketing trends, so your business can react to them and use them advantageously. The online market space is competitive, and it is constantly growing, so your business cannot afford to ignore investing time and money in digital marketing.
Marketing through digital channels allows your business to pull in your target audience and focus on the consumers that are mostly likely to engage with your brand.
If you would like to find out more about how digital marketing can benefit your business, then why not contact a member of our team or find out more about our online marketing consultancy services.