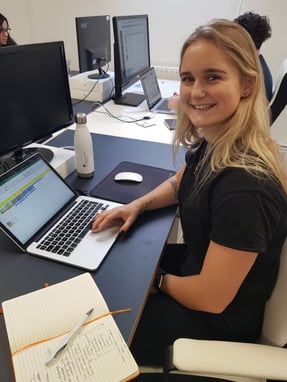 Hello, I'm Vogue - a new addition to the Innovation Visual team!
I have nearly completed my first month here already, starting a couple weeks before Christmas. This was a great way to get a taste of what it's all like, ready to hit the ground running in the New Year. I'm extremely grateful to be a part of a team who have all been so welcoming and supportive in the short time I've been here. I'm super excited to learn more with great people around me and developing my Digital Marketing skills in 2020.
My Background
I have been trying out all sorts of industries from a young age; from getting heavily involved in the performing arts world to then going down the route of Marketing Internships, to then working in a London Fitness Studio and finally to now, here with Innovation Visual.
I needed to settle on one and pursue a career in what I enjoyed most. Digital Marketing stood out to me straight away. I decided it was the career I wanted to go for and had the best opportunities for me in the long run.
Learning Digital Marketing Skills in My First Week
My first week absolutely flew by, packed full of new tasks, training time and meeting team members including Poppy the office dog!
Due to it being the busy couple of weeks before Christmas I was immediately thrown into completing client work. Most of my tasks revolved around content which I love including writing and uploading blogs, creating and uploading social media posts to Hootsuite. I also learnt fundamental SEO tasks like Keyword Research and conducting content audits for certain clients.
I enjoyed learning about the different clients Innovation Visual work with, considering the tone of voice needed in order to portray information for each individual client. Adapting accordingly was a big learning point for me, but as I understood the clients background more, I was able to then take on their story and apply it to the work.
On top of this, I got stuck into Google Ads and HubSpot Inbound Marketing Training, aiding my understanding of each task. I gained both Certifications with an encouraging pass mark which I was pleased about, after only a couple days of training. I learned so much in my first week, more than I would ever have imagined. I still have a lot to learn but am constantly picking up and learning new things by just being in and around a knowledgeable team.
What's Next?
I hope to grow more and more at Innovation Visual, progressing in all aspects of Digital Marketing as I begin working with new clients. 2020 is going to be a great year for the whole team and I'm excited to see what the year holds.