Waze is a navigation app used by millions of drivers around the world. Waze was founded in 2008 by Ehud Shabtai who was tired of sitting in Tel Aviv traffic, so set about creating navigation system that was smarter and more adaptable with routes planned using real time traffic conditions. This led to the development of the Waze app, which Google bought for $966 million in 2013.
It is now a community sourced navigation app used by over 100 million drivers around the world.
How does Waze work?
The main aim of Waze is to save drivers time whilst commuting by "outsmarting traffic, together". Waze does this by calculating the fastest route to a divers desired destination based on the current traffic levels.
Traffic donations are calculated using passive reporting from Waze users and the app is continuously learning, to improve the navigation route suggested to each individual user.
Users can also choose to actively report what's happening on the road in real time, which informs other Wazers of things to be aware of when travelling on the same route such as hazards, traffic jams and road closures.
Waze is becoming increasingly popular, with users spending an average of 11 hours per month using Waze and this equates to more time spent ion-app than Snapchat, Twitter and Pinterest.
Additional Waze features
Waze Carpool: ride sharing app connecting drivers going in the same direction. This is only available in the US at the moment.
Connected Citizens Program (CCP): this is an effort to form partnerships with local governments to share information about road closures and in turn Waze will report things such as pothole locations.
Waze Ads: Waze has millions of highly engaged users and you can advertise to these users with the Waze Ads platform.
Spotify music controls: Waze includes Spotify music controls in its navigation app making it easier to control your music on the road.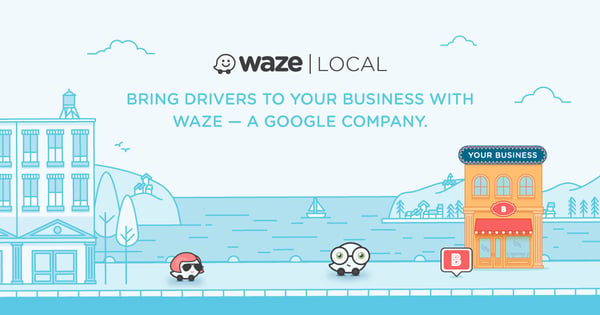 How to advertise on Waze
Waze Local
This ad solution is designed for small and medium sized businesses or national brands promoting localised campaigns who want to put their business location on the Waze map and connect with target nearby drivers. Waze Local ads can help a business to raise its profile, increase awareness of its location and subsequently drive traffic to that business location.
There are a number of different ad formats to target drivers including:
Branded pins: essentially digital billboards that appear on the map reminding drivers that your business is nearby and giving them the option to Drive There, Save for Later or Save Offer. When someone clicks on the pin they can also see important business information like address, opening hours, phone number and special offers.
Promoted Search: includes your business name, logo and address to help your business standout when users search for businesses like yours.
Zero-Speed Takeover: Your ads pop up when drivers are at a complete stop for more than 4 seconds. The ad itself includes information about your business and any relevant offers. The ad shows a clear 'Drive There' call to action to encourage drivers to visit your business.
Waze for Brands
These ads are designed to connect large national and global brands to drivers offering all the features of Waze Local as well as the ability to promote products and services as drivers use Waze on-the-go.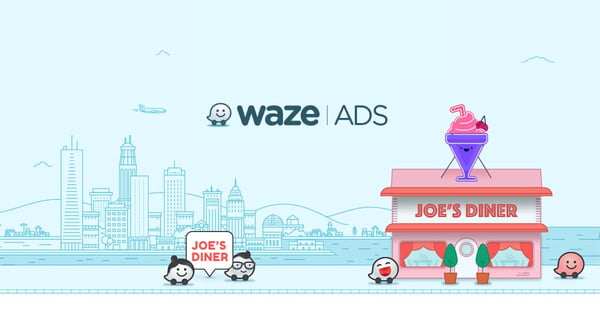 Manage your ads in the Waze Dashboard
The Waze Dashboard provides a comprehensive tool for managing your Waze advertising campaigns giving you the ability to select a date range, manage your account settings, switch between accounts, monitor your ads' overall performance, see performance breakdowns by ad format and location and view or edit your campaign creatives.
This allows you to easily identify what ads are working for your business on Waze and ads that need attention.
Who uses Waze
Waze has released the demographic data for its 100 million strong user base, helping businesses to workout if the Waze target audience is right for their business:
48% are women, 52% are men
75% of drivers using Waze are between 25-54 years old
35% of Wazers are between 25-34 years old
48% of Wazers are between 35-54 years old
65% of Wazers have between 2-4 people in their household
50% of Wazers have children
46% of Waze users have a household income of $100,000+
Should you be advertising on Waze?
12% of people globally are already using Waze as their preferred navigation app and with Waze becoming an increasingly popular choice for drivers to navigate it may benefit your business to start advertising on this platform.
You could even gain a competitive advantage over your competitors if they are not currently making use of Waze. If you're not already using Waze then why not try the Waze navigation app for yourself. It's free to download and use.
Speak to us about advertising on Waze
Innovation Visual are a Waze Certified Partner. If you would like to find out more about advertising on Waze then please feel free to get in touch with our team who will be happy to advise you.