Innovation Visual are so proud to support Phoenix Goodman, our 16 year old TaeKwondo star.
In her very brief downtime, Phoenix has written us a short blog to fill us in on what she's been doing and all her amazing achievements in 2022 so far. In her own words…
The last blog I wrote updating you on my sporting career was at the very beginning of this year, so it seems I have a lot to update you on. It has been an extremely busy and exciting 2022 so far!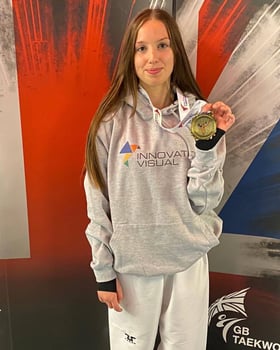 A Busy 2022!
As part of the GB Junior Development Team , which prepares young athletes for a future professional sporting career, I have been all over the world training and competing as both a junior and senior entrant, for the first time.
Team England Futures
In February this year, I was selected to be involved with the 'Team England Futures' and was invited to have a behind-the-scenes experience at the commonwealth games in Birmingham.
Training in Mexico
In April, I travelled to Monterrey, Mexico with the GB Junior Development Squad to train with the Mexican Junior National Team for 2 weeks for a training camp. It was an amazing experience, and I took a lot of beneficial learning from it. It was mentally and physically challenging at times due to the difference in time and the weather, but it was all worth it.
Competing at the Swedish Open G2
At the beginning of May, I travelled to Sweden with the GB Junior Development team to compete at the Swedish Open G2 event and I came away with a silver medal after three fights. This was my first G2 of the year and so it was really nice to get back in the ring and gain some mat time.
Junior World Championships - Bulgaria
In mid-July, I was privileged enough to be selected by the GB Junior Development squad to compete at the Junior World Championships in Bulgaria in August this year. This was a huge opportunity for me as it was the biggest stage I have competed at in my entire taekwondo career to date. I trained for 2 weeks up in Manchester with the GB Junior Development team in preparation for the championships in the middle of July where I was able to practise and continue to work on my skills in preparation for the worlds. Unfortunately, I lost my first fight at the worlds in August to Egypt. It wasn't the result I wanted or had planned for, but I went back home and continued to work hard and I came back stronger.
Bouncing back at the Tallin Open - Estonia
On the 24th August, I was given the opportunity to travel with the GB Senior Squad to compete at the Tallin Open, Estonia. This was an amazing opportunity and experience to go away with the full time GB team and compete alongside the senior athletes. I had 4 tough fights that day and came out on top with a gold medal. This was my first ever senior outing as an athlete, and I was fighting women in their 20's who had been competing for far longer than me. I took away so much learning from that and it was nice to transfer the feeling of loss from the worlds into success here.
Polish Open with LMC
On the 11th September, I travelled to Poland with my local club, LMC to compete at the Polish open (my second senior competition) and I won my first fight and lost my second to Israel, a very talented athlete, coming away with a Bronze medal (2 senior medals in the bank!).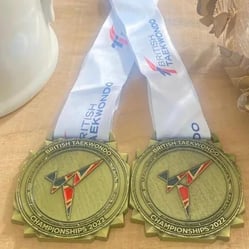 British National Championships
On the 25th September I competed with my local club, LMC, at the British National Championships which occurs annually, referred to as the biggest British competition of the year. I fought in both the junior and senior division and therefore had 7 fights in order to retain my title as British National Champion for 3 years in a row - which I did! I came away with 2 gold medals for both divisions after 7 fights.
Riga Open - Latvia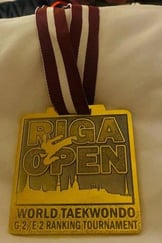 On the 8th October, I competed at the Riga Open, Latvia with my club LMC in the senior division (my fourth competition as a senior!) and after 2 fights, I took out a talented player in the final and came away with first place and a gold medal!
Follow Phoenix Goodman
We are so proud of Phoenix's journey and that we have the opportunity to support her. She is an exceptionally skilled athlete. If you'd like to, you can follow her progress on Facebook and Instagram too.