3 Steps to Ensure Good Website SEO Health
The health of your website is linked to your search rankings. For this reason, it is very important to ensure that your website health is, and remains, in good order and there are a few things you can do to make sure that this is the case. It sounds simple, and while keeping on top if these key checks is relatively straightforward, there is a lot more to maintaining a high level of good quality SEO on a website. For now though, let's look at these first 3 steps.
Website Speed
There is a free tool available from Google called Test my Site which allows you to test your website speed. Website loading speed is now a ranking factor and as 60% of searches are now from mobile devices it should be a priority to ensure that your site is fast! So, what exactly is fast? It can be subjective, people simply won't wait thee days and it's said we have an even shorter attention span online that the ubiquitous goldfish now. However, if your site loads in 2.9 seconds, it is faster than approximately 50% of the internet, ok. Half is't bad but it's not really good enough. If your site loads in 1.7 seconds, it is faster than approximately 75% of the internet, which is better, but if your site loads in 0.8 seconds or less it is faster than around 95% of the web, which is excellent.
Internal Linking
4xx Errors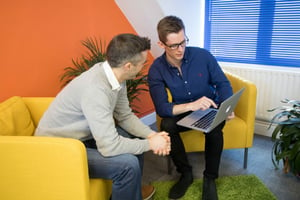 When linking internally on your website it is vital to avoid errors, such as 4xx errors. A 4xx error, usually a 404 error, is generated when a page is not found. 404 errors most commonly occur when website content has been removed or moved to another URL.
You should make sure that users are not clicking on a link that leads to a 404. This can increase bounce rate and provides a poor user experience. Google Search Console can help you find any 4xx errors on your website so they can be rectified.
3xx Redirects
Sometimes it is necessary to redirect a page to avoid a 4xx error. When this is done it is important to implement the right type of redirect.
301 redirect – search engines are notified of a permanent URL change with the 301 redirect. The value of inbound links will be transferred to the new site/page
302 redirect – used when a site must be temporarily redirected. Search engines will anticipate the site address being active again. Inbound links will continue to point to the temporarily redirected page.
Redirects should be avoided unless it is necessary to do so. To implement a redirect, you need to access your .htaccess file. Plugins are available for Content Management Systems (CMS) such as WordPress as well.
Proper Implementation of Https
Is your website over http or https? If your website is currently over http then it is being marked as 'not secure' by web browsers such as Google Chrome, which could spell disaster for your traffic. http websites do not scramble the data that users enter into a website in forms etc, whereas https websites will make sure that data is encrypted to keep it safe from potential hackers. The 's' in https stands for secure and search engines will inform a user if a site is not over https.
Think about the implications of your website being flagged as not secure. This could lead to potential customers leaving your site because they don't feel they can trust it, which could easily impact not only sales but conversions too.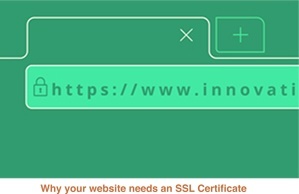 In addition to user experience, whether your website is over https or not is a ranking factor in Google search results, meaning that if your website is not over https and your competitors are, then they will rank above you for that.
So, make sure your website is over https by implementing an SSL certificate. There are several things to consider as well as common pitfalls to avoid when migrating a site from http to https, so it's worth making sure it is done properly by a professional so as not to damage your site rankings. The Innovation Visual team have carried out a number of successful SSL certificate implementations, so speak to our team if your website is currently over http.
Improve Your Website SEO Health
This article outlines some great starting points for making sure your website is in good health. However, testing your website speed, improving internal links and making sure your website is over https really is only a starting point. Great SEO is a complex beast so you might like to read on to find more, take a look at the 'Want to know more?' box on the right for even more about how to implement great SEO on your website.
If you would like to find out more about implementing the fixes mentioned in this article, or how we could help your site performance, then please get in touch.