The Ultimate Guide: Search Intent and SEO
There are many tricks to designing and implementing an outstanding SEO strategy; among them are in-depth keyword research and content marketing. However, it's crucial to understand the search intent behind the search query. Creating content based solely around keyword research just isn't enough in the current market.
User behaviours online have changed dramatically since the Covid-19 pandemic changed everything, and organic search is now more popular than ever in helping users find the content they're looking for. It is imperative that you understand your users search intent to create the right SEO strategy for your organisation if you want to deliver measurable results.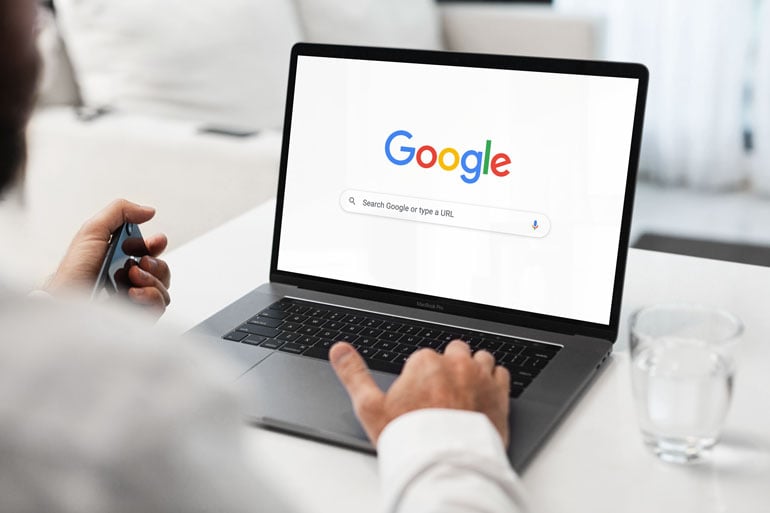 Understanding the search intent behind a keyword will strengthen your SEO strategy and, in turn, deliver more organic traffic through to your website. It doesn't stop here though; displaying the right content to a user, based on correctly correlated user intent, will help drive greater conversion rates.
This guide will walk you through search intent, its place in best practice SEO implementation and how to leverage it to drive revenue.
Here's what we'll cover:
What is Search Intent?
Search intent, also known as user intent, is the purpose behind a user's search term in a search engine. Users' conduct searches for a specific reason, whether they're looking for an answer to a question, a product or service, or further information on a topic. Over the years, Google has adapted its algorithm to understand a user's intent, resulting in relevant and quality content ranking at the top of Google.
The Four Types of Search Intent
There a four main types of search intent:
Informational Intent
Informational intent is when a user looking for a specific question to be answered, or more information on a topic. It is important to understand that these searches may not just be questions, but more broad terms like "Sundar Pichai". The user is wanting to find out more about the search term; providing quality, valuable content to a user for informational intent is vital.
Examples of informational intent search queries:
What is SEO?
How to conduct a content audit
Keyword research
Link building
Navigational Intent
Navigational intent is when a user is looking for a specific page, and already knows what the brand or website is they want to navigate through to. Users often find it easy to do a quick search to find the website or brand they're looking for, rather than remembering the URL.
Examples of navigational intent:
Innovation Visual Limited
Innovation Visual SEO Services
Innovation Visual Inbound Marketing
Innovation Visual what is search intent
Commercial Intent
Commercial intent is a user who knows what kind of service or product they are looking for but want to investigate before making a commitment. These users are further along the informative stage in their buyers' journey, but still have further investigating to do into the companies before making the purchase decision.
Examples of commercial intent:
SEO agencies Surrey
Best hairdressers in London
Apple vs Samsung
Innovation Visual reviews
Transactional Intent
Transactional intent is when a user is looking to make a purchase. They know what product, service, or subscription they want to purchase, and they usually want to make the purchase now. These users are now just searching for the right provider to make the purchase from. These search queries are sometimes branded.
Examples of transactional intent:
Apple watch
Daily planner
Concert tickets
Alexa Echo
The Importance of Understanding Search Intent for SEO
It is important to understand a user's search intent to make sure you are creating the best content for your audience. It is essential for your content to fit in with users search intent for higher rankings and helping your overall SEO strategy. If your content does not accurately match each type of intent search that your users are making, then your pages won't be shown in SERPs for those searches and your audience won't find your pages and ultimately convert with you.
Displaying quality content is only one part of the SEO strategy, the importance lies in whether you are reaching the right audience for your website. For example, your content is aimed at people in the market to buy a dog, however they need to know more information about owning a dog first in order to continue their buyers' journey with you. Instead of producing quality informative content on this subject, the content you have displayed to the user is transactional intent. This is ignoring the informational search intent and so will not capture them early in their journey when you could be building relationships with them.
By presenting the correct content to the user at the right time, the goal is to take the user on a journey from the informational content to the transactional page. This is where conversion rate optimisation can be employed.
How to Define Search Intent
Defining users' search intent is the next step to understanding what search intent is and how it can improve your SEO strategy. There are two main ways to understand audience search intent, keyword modifiers and in-depth research, and SERP results.
Keyword Modifiers and In-Depth Research
Keyword modifiers are words used in search, adjectives, adverbs, qualifiers etc, that make the search more specific and so deliver better quality results. For example, in searching for white trainers, instead of searching simply 'white trainers' you might create a higher quality SERP by searching 'Buy white leather trainers online in the UK'.
The relevant modifiers for the keywords to be optimised for can be found through in-depth keyword research. Understanding the variations of a keyword and further investigating these will help you to uncover the different search intents around a keyword set.
For example, the keyword 'SEO' in the questions section of SEMrush 'keyword magic' tool presents us with the following modifiers, which shows most of these questions being informational intent: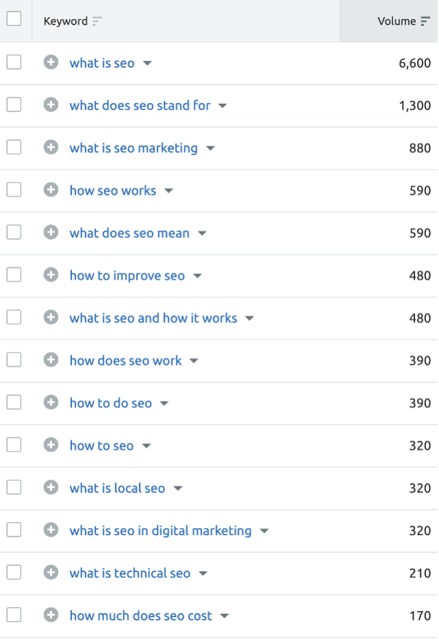 In comparison, investigating the broad search for 'SEO' shows us a keyword set that includes informational and commercial intent: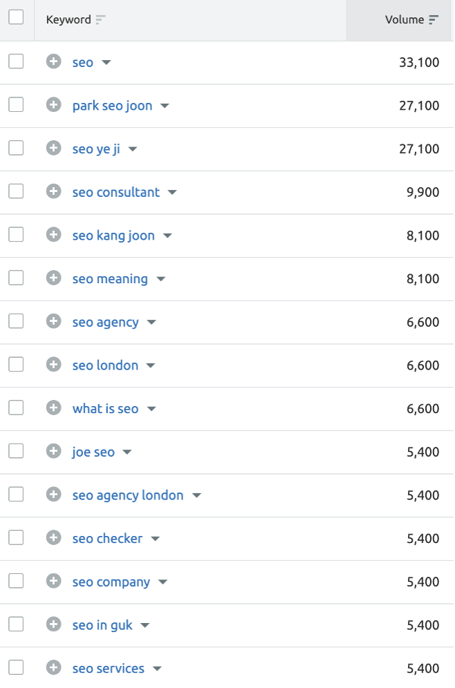 In comparison, here is a keyword set for navigational and transactional intent for the keyword variation 'apple store':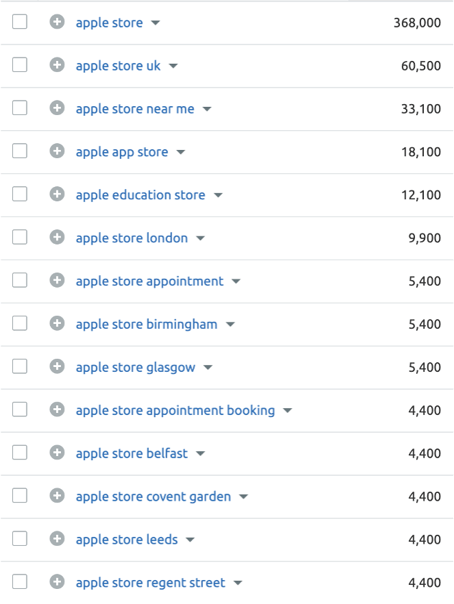 Understanding the search intent for these keywords and modifiers is critical. If it is not obvious in SEMrush keyword magic tool, then you can do further investigating in the SERP results. Or you can ask our SEO experts to help!
Search Results
After identifying the keyword modifiers that are relevant for the content, the next step is to uncover the competition in the SERPs. This will help understanding of the content that is currently available to users for their desired search query. Let's take a deep dive into the SERP results for some of the keywords identified above:
Informational Intent SERP Results
Keyword modifier: 'What is SEO'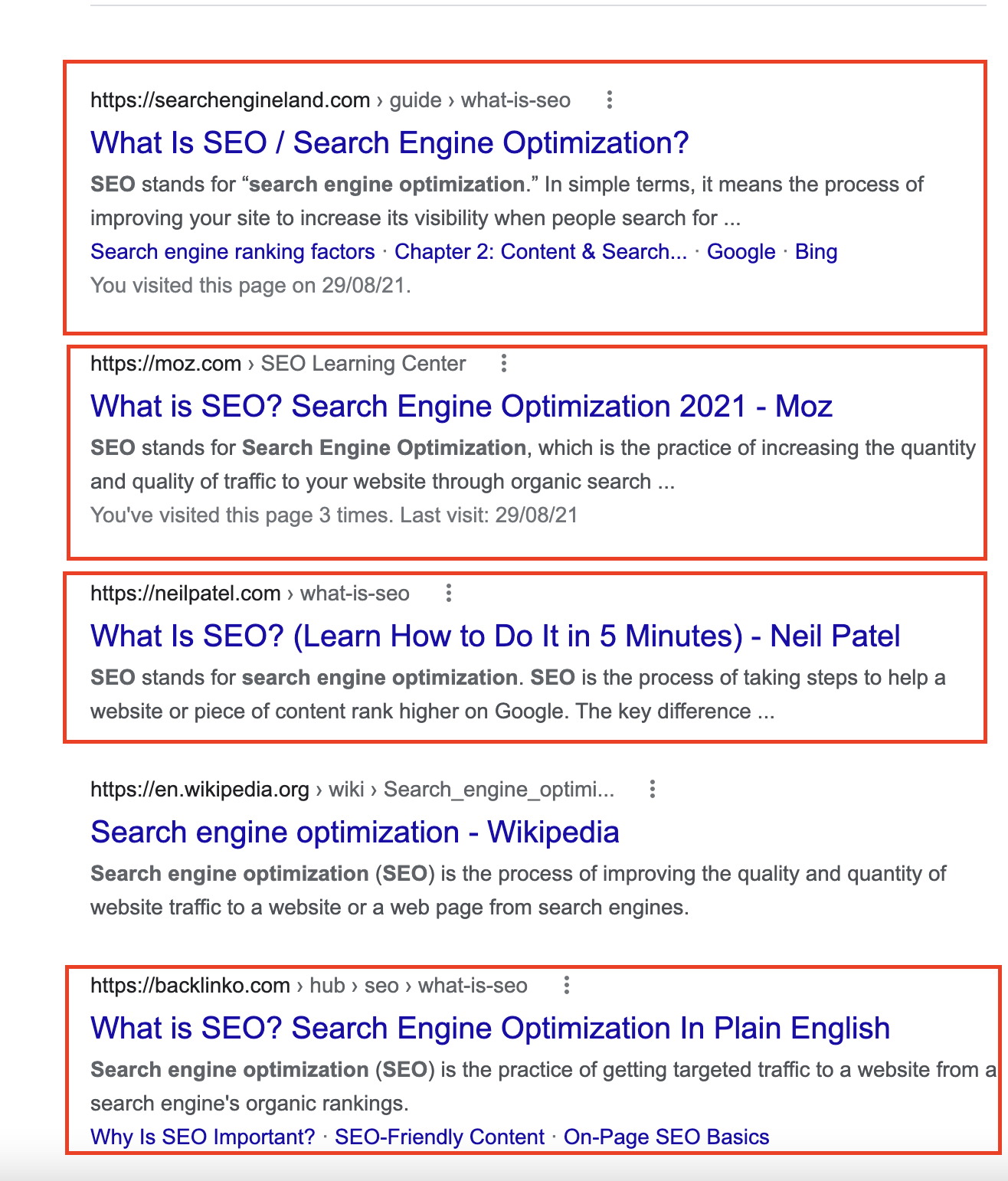 Navigational Intent SERP Results
Keyword modifier: 'apple store'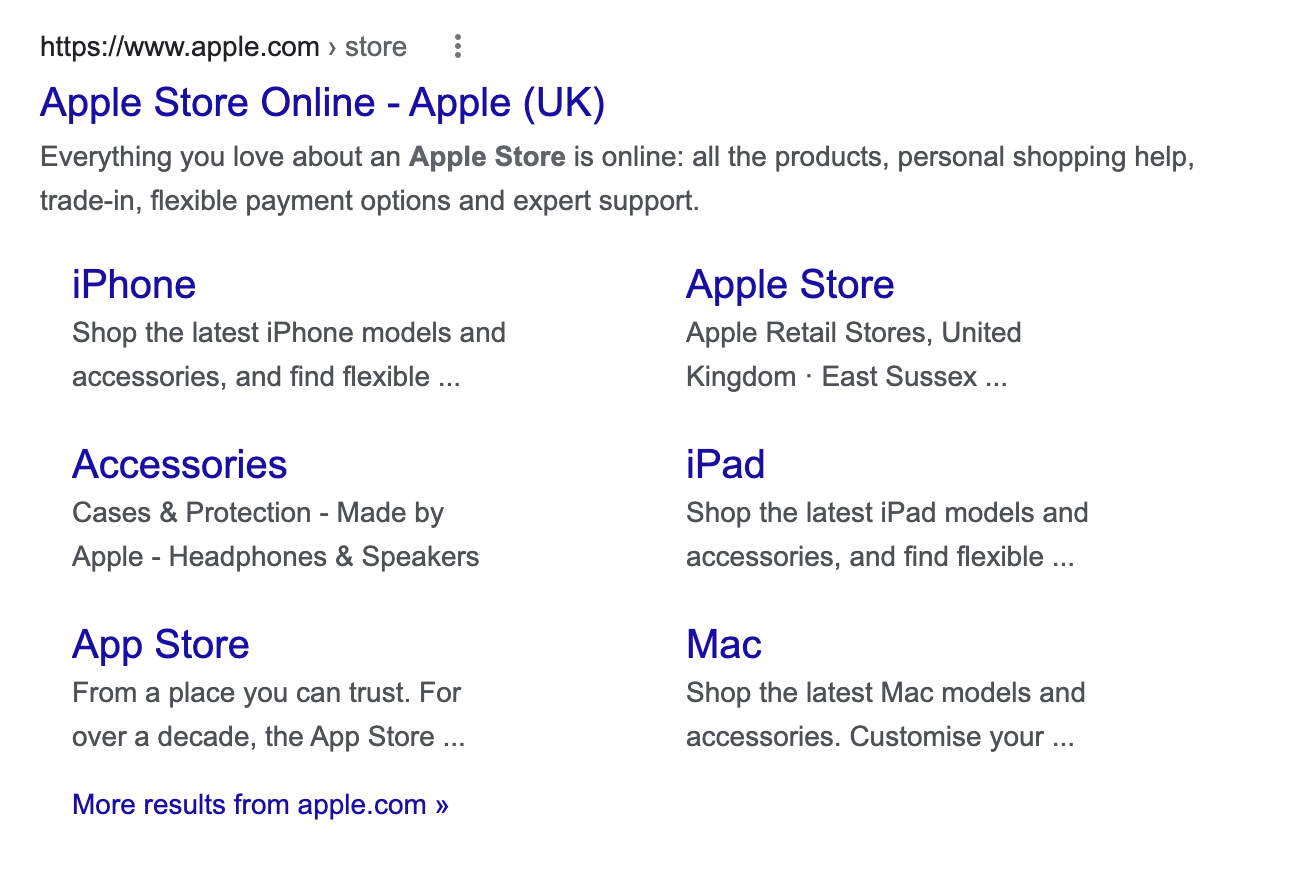 Commercial Intent
Keyword modifier: 'Window Installation Kent'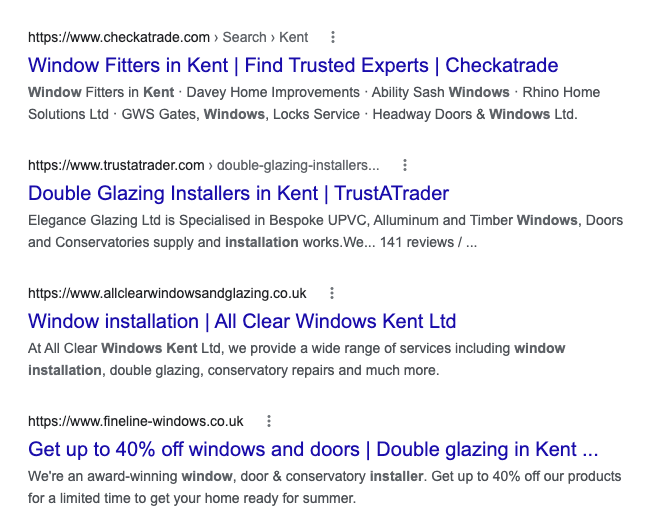 Transactional Intent
Keyword modifier: 'apple store appointment booking'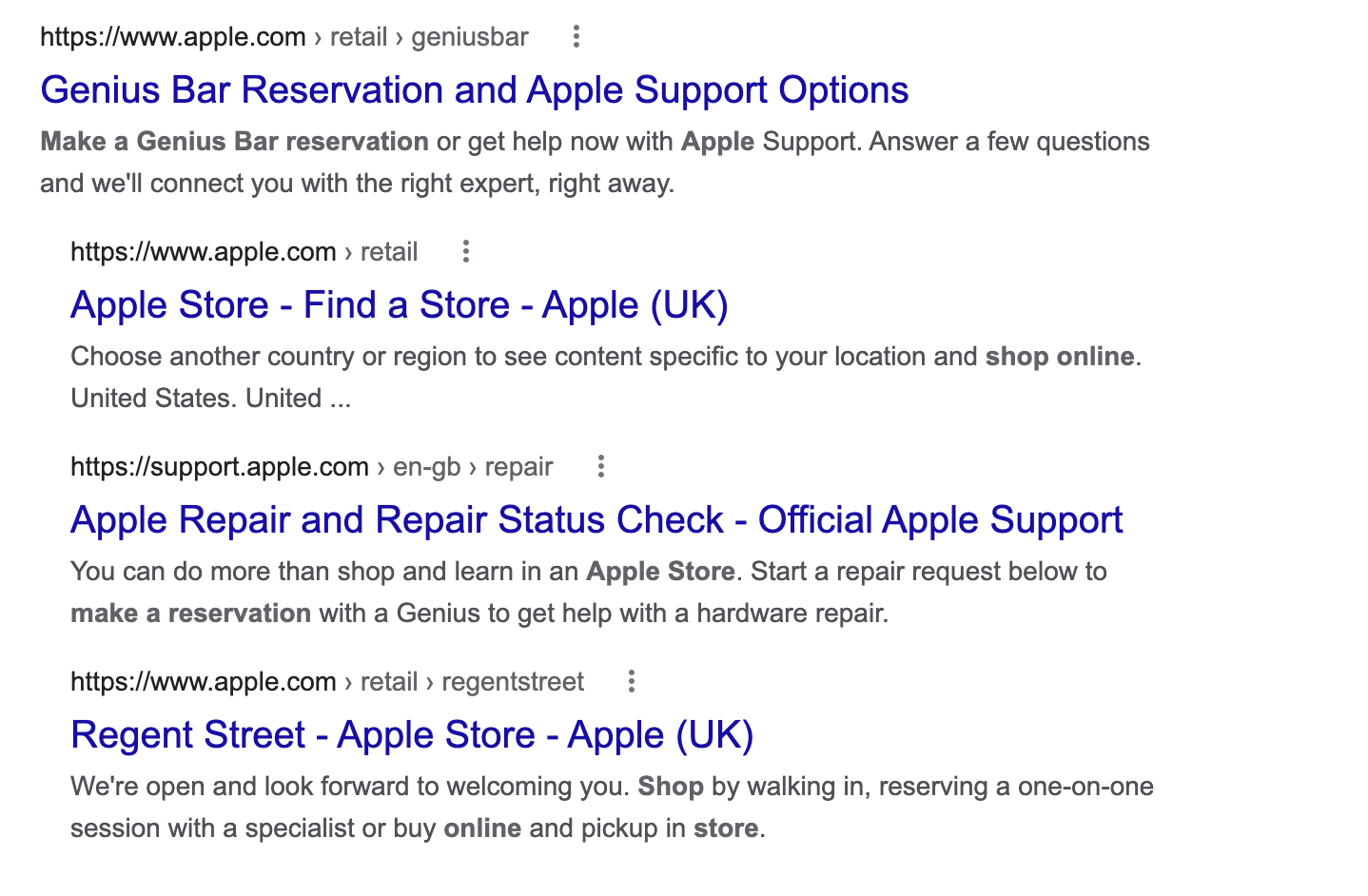 The SEO Rewards for Optimising for Search Intent
Hopefully the guide above has underlined how valuable optimising content for search is. However, it is essential to understand the SEO benefits and rewards for acknowledging search intent in your ongoing SEO strategy.
Optimising for search intent will deliver higher rankings in search engine result pages because the content is designed to be better aligned to the relevant searches. That consequently improves digital and organic visibility too.
Optimising content, blog posts, and landing pages for search intent can improve SEO by:
Reducing bounce rate
Increasing page views
Giving content the opportunity to appear in SERPs answer boxes
Delivering wider visibility.
Is Your Site Optimised for Search Intent?
The importance of having content that is not only optimised for keywords, but also search intent, is critical. Is your site currently optimised for the search intent(s) of your target audiences?
Innovation Visual are a full-service digital marketing agency, with effective and commercially driven SEO at the core of everything we do. We will develop an SEO strategy that chieves your objectives, so why not get in touch to find out how? For more information, please take a look at our SEO services.
We have considerable experience in helping businesses of all sizes with local search, whether they are small single site businesses or large national organisations with multiple sites across the UK, they are now benefiting from improved local search. Your local search results can be time consuming and technical if you do not have a good foundation to start from. If you would like to understand more about local search or any other aspect of digital marketing why not give us a call?