We are a proud to be certified as a Drift Marketing Agency which means that we are recognised experts in Drift conversational marketing and can use this to help our clients generate and automatically qualify leads in a way that traditional forms cannot match.
We offer a variety of Drift related services, outlined below, as well as a Free Drift Audit for existing Drift users who want to make optimum use of the platform to drive growth through conversational marketing effectiveness.
What is Drift?
Drift is the world's first and only conversational marketing platform and one of the fastest Martech start-ups of recent years. Their offering progresses leads through the sales funnel through the use of live chat, AI Drift chatbots, email, videos, efficient marketing and sales qualification and automation. The platform takes on a truly 'right time, right place' approach, promoting real-time conversations and allowing businesses to engage with website visitors on a 24/7 basis which is effective for both B2B and B2C sites.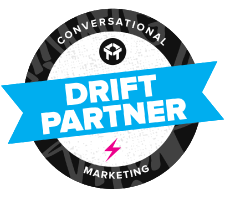 Using Drift, visitors can be welcomed to your site and qualified within the chat before connecting them with sales agents via live chat or by booking a meeting. This dynamic and engaging approach to lead data capture can convert more site visitors, enable on-site Account Based Marketing (ABM) campaigns, shorten your sales cycle and empower your sales teams.
Drift is based on a fly-wheel framework: Engage, Understand and Recommend. By striking up real time conversations with your visitors you can understand their needs then recommend relevant content, products and services which in turn will keep them engaged with your brand.
Drift Chatbots
Drift allows organisations to rapidly deploy chatbots on their website with absolutely no coding! Drift chatbots provide a great way to engage with site visitors, capture lead data to pass to your CRM, identify where the visitor is in their buyers' journey and qualify them appropriately to marketing or sales – all in real time! The experience for the visitor is much smoother than having to jump through frustrating hoops of contact forms, emails or waiting for call backs.
Conversations and the Inbound Marketing Methodology
Drift conversational marketing is the fastest way to move buyers through your marketing and sales funnels through the power of real-time conversations. It builds relationships and creates authentic experiences for customers and buyers which in turn lead to higher conversion rates, more opportunities, and a more personalised experience for the customer.
The more traditional marketing process has become impersonal for the buyer, and the statistics support the need for an alternative approach.
cold call answer rate - 43%
average email open rate - 20%
average landing page conversion rate - 2.35%
Conversational marketing is a human centric approach to marketing. As such, conversations can be used in your inbound marketing strategy to attract, engage and delight customers. Recent research has found that 90% of consumers want to use messaging services to communicate with businesses. This is because it is fast, easy and actually feels like a real conversation, as it is happening in real time.
Qualified as a Drift Marketing Agency
Being a Certified Drift Partner means that the Innovation Visual team are experts in Drift conversational marketing as recognised through qualifications and knowledge of the platform. We have our finger on the pulse; staying up-to-date on the latest developments as well as the hands-on experience in implementing Drift for our clients.
The Benefits of Working with a Drift Certified Partner
In the right hands, Drift's conversational marketing framework can be used to add another layer to your inbound marketing strategy and give your business further scope to engage with potential leads and customers which in turn can increase conversions. Drift allows you to turn on a new lead-generation channel and by working with digital marketing experts that understand the platform inside out, results can be yielded quickly with minimal disruption.