We are a proud to be certified as a Drift Marketing Agency which means that we are recognised experts in Drift conversational marketing and can use this to help our clients generate and automatically qualify leads in a way that traditional forms cannot match.
What is Drift?
Drift is the world's first and only conversational marketing platform and one of the fastest Martech start-ups of recent years. Their offering progresses leads through the sales funnel through the use of live chat, AI Drift chatbots, email, videos, efficient marketing and sales qualification and automation. The platform takes on a truly 'right time, right place' approach, promoting real-time conversations and allowing businesses to engage with website visitors on a 24/7 basis which is effective for both B2B and B2C sites.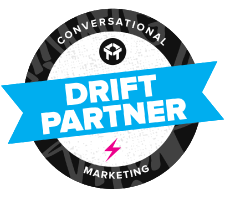 Using Drift, visitors can be welcomed to your site and qualified within the chat before connecting them with sales agents via live chat or by booking a meeting. This dynamic and engaging approach to lead data capture can convert more site visitors, enable on-site Account Based Marketing (ABM) campaigns, shorten your sales cycle and empower your sales teams.
Drift is based on a fly-wheel framework: Engage, Understand and Recommend. By striking up real time conversations with your visitors you can understand their needs then recommend relevant content, products and services which in turn will keep them engaged with your brand.
Drift Chatbots
Drift allows organisations to rapidly deploy chatbots on their website with absolutely no coding! Drift chatbots provide a great way to engage with site visitors, capture lead data to pass to your CRM, identify where the visitor is in their buyers' journey and qualify them appropriately to marketing or sales – all in real time! The experience for the visitor is much smoother than having to jump through frustrating hoops of contact forms, emails or waiting for call backs.
Conversations and the Inbound Marketing Methodology
Drift conversational marketing is the fastest way to move buyers through your marketing and sales funnels through the power of real-time conversations. It builds relationships and creates authentic experiences for customers and buyers which in turn lead to higher conversion rates, more opportunities, and a more personalised experience for the customer.
The more traditional marketing process has become impersonal for the buyer, and the statistics support the need for an alternative approach.
cold call answer rate - 43%
average email open rate - 20%
average landing page conversion rate - 2.35%
Conversational marketing is a human centric approach to marketing. As such, conversations can be used in your inbound marketing strategy to attract, engage and delight customers. Recent research has found that 90% of consumers want to use messaging services to communicate with businesses. This is because it is fast, easy and actually feels like a real conversation, as it is happening in real time.
Qualified as a Drift Marketing Agency
Being a Certified Drift Partner means that the Innovation Visual team are experts in Drift conversational marketing as recognised through qualifications and knowledge of the platform. We have our finger on the pulse; staying up-to-date on the latest developments as well as the hands-on experience in implementing Drift for our clients.
The Benefits of Working with a Drift Certified Partner
In the right hands, Drift's conversational marketing framework can be used to add another layer to your inbound marketing strategy and give your business further scope to engage with potential leads and customers which in turn can increase conversions. Drift allows you to turn on a new lead-generation channel and by working with digital marketing experts that understand the platform inside out, results can be yielded quickly with minimal disruption.
Experts in Conversational Marketing
As Drift experts, we can help your business implement Drift conversations effectively and supercharge your sales funnel.
Innovation Visual can work in partnership with your business to build the right conversations depending on where leads may be in their lifecycle or where they are on your website. For example, a visitor of your pricing page is likely to be at a very different stage of the buyers' journey than someone on your resources page and will require a different approach to engage.
Best Practice
We use Drift marketing ourselves on a daily basis, so we understand the best ways of working with the conversational marketing framework in line with other digital channels such as paid advertising, organic SEO and content marketing. We implement these best practices with our clients to give you and your customers the smoothest experience by fixing your website conversion problems and increasing your revenue stream.
Access to the Drift Partner Community
Certified Partners have access to the Drift Partner Community where we can interact with other Partners and Drift chat experts, share best practice and learn from our peers to gain even more understanding of this marketing strategy.
Training and Resources
Drift Partners have access to exclusive partner service materials such as the Conversational Marketing Blueprint and Framework and are always the first to know about new Drift products and features. In turn we can pass this knowledge of new developments and data to you, so you are always ahead of the game. We also have access to additional training resources and co-marketing support and actively seek to improve our knowledge and expand on our skills so that you are always getting the best service and most up to date skills expertise on your campaigns.
Let's chat about Drift and Conversational Marketing
Innovation Visual are a recognised Drift Partner Agency. We have practical expertise in using the Drift conversational marketing platform to offer incredibly powerful tools to nurture leads through the buyers' journey. By using conversational and live chat in your marketing plan, you are able to engage with prospects in a more powerful and personalised way, which is a welcome change to the cold sales tactics of some big companies.
As a full-service agency, we can work with your business to implement Drift marketing as part of a wider digital strategy. Let's discuss your business' challenges and explore how conversational marketing could benefit your business. Start the conversation with us today.