Ever wondered what those little messaging applications that pop up when you go onto a website are? Well, they are chatbots.
Essentially, chatbots are a form of computer programme run by artificial intelligence. These are integrated into a messenger app or embedded into websites in order to allow customers to easily ask questions and find answers to solutions. An example below from Currys PC World showing what they might look like on a website.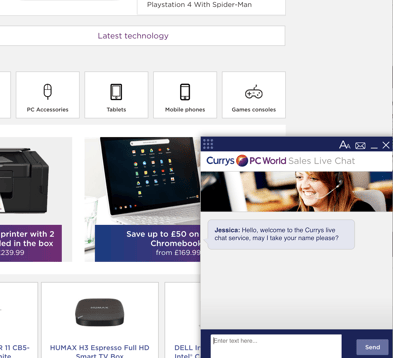 <
The Changing Face of the Customer Journey
Gone are the days of picking up a catalogue or phoning a company for information with long waiting times listening to the same hold music over and over.
Much of the customer journey today happens online with customers wanting to find answers to their problems in the easiest possible way. While interactions still happen face to face, consumers look to online platforms as an easier option. Not only this, customers are constantly searching and wanting access to information at all times, so having chatbots only makes sense.
According to ChatbotsMagazine 51% of customers say they want a business to be available 24/7 while Business Insider has found that 45% of end users prefer chatbots as the primary mode of communication. This is where chatbots can add value to your business, improving the customer experience and maintaining relationships.
With the prediction that by 2020, 80% of companies will be using chatbots on their websites, choosing not to implement chatbots could turn out to be the wrong decision. It has been proven that chatbots incentivise consumers as chatbots are a quick and easy method of purchasing or enquiring about a product.
The Benefits of Bots
Websites play a critical role in the consumer decision making process for both B2B and B2C companies. Chatbots add value by offering an extra core level of service to your customers on your website providing a further way for companies to really understand the consumers' needs and what they want.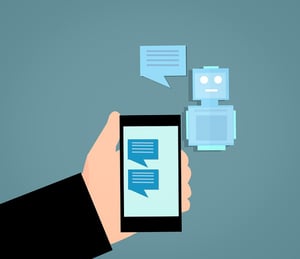 First of all, a user comes to your website looking for a product or service and wanting to know more. The customer then uses the Chatbot application to ask questions with the chatbot having the ability to answer in a conversational way, quickly and efficiently responding to customer service enquiries.
What's more is that you can enable customers to purchase directly from your chatbot function, speeding up the customer journey and possibly increasing conversions.
Over time chatbots will develop, incorporating further data and offer increased levels of personalised conversations to customers by understanding past behaviours and queries. So, the real question is why aren't you using them to enhance the customer experience in your digital marketing strategy?
Let's Chat about Chatbots!
Get in touch with our team to chat more about chatbots!