Our experienced and dedicated team at Innovation Visual has been shortlisted in the Global Digital Excellence Awards for 2020! We are delighted to have been selected as finalists in the category of Global Integrated Digital Agency of the Year. Read on to discover exactly why we were recognised and learn about a few of the campaigns we highlighted in our submission.
What are the Global Digital Excellence Awards?
The Global Digital Excellence Awards (GDXA) is a newly created virtual awards event that unites organisations through celebrating excellence in digital in the face of unprecedented times. Events hosted by DontPanic! are normally held in 5* hotels around the word, but they have taken the GDXA ceremony online so that, as an industry, we can continue to celebrate the campaigns, agencies, teams and individuals who go above and beyond in their work.
Even though this is a new awards ceremony, hundreds of entries have been attracted from across the globe and we are thrilled to reach the finals. This is a huge achievement and we are looking forward to enjoying the ceremony with champagne at the ready! Winners will be announced over live stream on 23rd June and we can't wait!
Global Integrated Digital Agency of the Year - Small
Innovation Visual has been recognised as a finalist in the category of Global Integrated Digital Agency of the Year. This category invited submission applications from smaller teams that use an integrated digital marketing approach to get the best results from their campaigns. We are up against 5 other small agencies in our category and are quietly confident that we will come out on top – fingers crossed!
We spotlighted three specific success stories in our entry.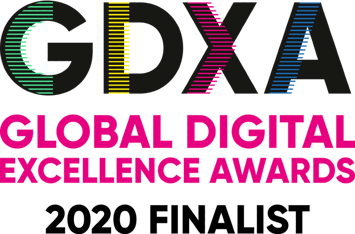 Accounts Based Marketing Campaign
Our client, Applaud, requested help in increasing the quality and number of leads from a highly targeted and focused segment. Using function targeting and job titles in LinkedIn's advertising platform, and optimised contact lists from HubSpot we were able to accurately target the ideal prospects.
It was vital throughout this project that we should be as selective as possible without narrowing so much as to negatively restrict the number of leads
This campaign was challenging as we needed various platforms including Hubspot, Google Analytics, Google Ads and LinkedIn to integrate smoothly and create a large a number of UTM parameters for successful data tracking and segmentation. Segmenting these audiences also meant that we could provide the most relevant content for each segment. This segmentation enabled us to use the collated data to better comprehend which of the ad campaigns were best performing. Specific integration and targeting between platforms resulted in greater confidence in the data.
As a result of our work, the ABM campaigns received a significant uplift in both the quality and volume of leads, with a 10x increase in the number of leads generated per month, compared to the previous 6 months and only two months later our integrated HubSpot, Google and LinkedIn paid media campaigns saw a 1,125% increase in lead generation.
Website Rebuild & PPC
David Shepherd Wildlife Foundation (DSWF) are a local and international charity funding conservation efforts across Africa and Asia. Their team requested help with their website which, whilst visually appealing, had clear areas for improvement from a digital marketing point of view.
We donated our time free of charge to this worthwhile cause and concentrated on an audit of the existing activity, which was primarily paid search, and conversion optimisation.
We helped to up-skill the internal DSWF team by providing mentoring and training to them which empowered them to do more, more effectively. This focused on how to create an effective content strategy to improve organic search results and visitor engagement.
Additionally, Innovation Visual's CEO Tim Butler made the decision that we would rebuild the DSWF website, to ensure precise optimisation, totally free of charge!
We fully utilised DSWF's Google Ads grant to get the the maximum value out of the monthly allocated budget. We greatly improved the user experience (UX) to enable visitors to more quickly and conveniently complete key actions such as purchases, and so also increased the conversion rate.
Conversion rate increased by more than 10x as a direct result of our work, which is a revenue growth of 63% - all with their existing budget and no extra spend! Furthermore, the website bounce rate decreased by 50% and the average session duration of those visitors driven by paid traffic increased by over 600%!
Organic & Paid Search Campaign
Having worked with international SaaS client Unily for a many years, we had already proven that we can effectively increase the volume and quality of leads as well as brand awareness, whilst reducing costs. As such our team was raring to go when we were asked to to design and implement a strategy to maximise their ROI and increase revenue generation.
We implemented a combination of short and medium terms paid search campaigns, with a longer term strategy involving organic search and an in-depth content strategy.
Unily has clients around the globe, so we understood the importance of implementing international SEO strategies and producing content in the appropriate language for the dynamic audience.
As a result of our work, Unily went from being majorly reliant on paid search advertising for the creation of leads and traffic to now having less then 10% of visitors to their website arrive through PPC. The vast majority of the remaining 90% of visitors are now generated through organic search. Unily also now boasts number one rankings, worldwide, for their key target terms.
What this Means for Us
Being recognised as Global Integrated Digital Agency of the Year would mean so much to our small but dedicated team. They truly are the heart of Innovation Visual and demonstrate their commitment each and every day to their clients goals, the company culture and to supporting each other during this difficult time. Innovation Visual has consistently grown each year with regards to our turnover, number of clients profit and digital marketing expertise. We are immensely proud of the quality of our work and our clients are appear to agree, which is a great testament to our team's dedication to delivering the best results for them. We always want to do more than is expected and to foster long term professional relationships and quality for our clients, which is particularly important during the unprecedented times we are all experiencing right now.
The business results generated for our clients are a genuine testament to the commitment and dedicated hard work of our team of passionate and multi-skilled digital marketeers.
Get in touch with our talented team to see how we can help develop an award-winning digital marketing strategy.