Kate joined the Innovation Visual family back in February 2022, and soon settled into her busy role as a Digital Marketing Executive. We think now is the time to officially welcome her on board!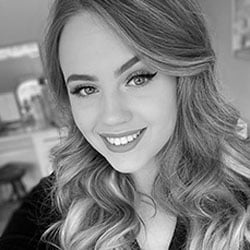 Kate started out in the working world after qualifying in Beauty Therapy and then working as a Salon Therapist. After several enjoyable years within the industry, Kate decided she wanted to try something new. She landed a job where she completed both Business Administration and Digital Marketing Apprenticeships, and soon became the in-house marketing guru. Kate fell in love with the world of Digital Marketing, whilst gaining a wealth of experience along the way. She now utilises her creativity and marketing knowledge to help grow a variety of our clients through a variety of specialisms including content creation, social media and email marketing – just to name a few! Even better, Kate works closely with one of our largest clients, who is based in the wellness sector, which allows her to combine both her loves of marketing and health and beauty, into one exciting role.

Kate is looking forward to continuing to develop her Digital Marketing skills, and to explore the different avenues that Innovation Visual has to offer.

Here is what she has to say about her first few months as an integral part of the team.

"My time at Innovation Visual so far has been more than I could have ever hoped for. I have adapted quickly to the hybrid-working model due to the ongoing support I have had from everyone in the team. Every single person has been so welcoming, and I wake up looking forward to work – which is something I never thought I would be saying! I can't wait to see what the future holds for me at IV, and to continue working amongst such a fantastic group of people."
Could You Be Our Next Visualiser?
Innovation Visual is continuing to grow at a rapid rate, and we are always on the lookout for enthusiastic, new talent to join our team of skilled marketeers. If you would like the opportunity to join a fast paced company, with excellent progression opportunities, visit our careers page today.