It doesn't matter if your goal is to acquire leads, increase sales or conversions, content plays a crucial role in moving people through the buyers' journey. With a staggering 4.39 billion internet users worldwide creating content is a great way to reach an audience and where they are. From videos to images to blogs, content helps your prospective customers or leads learn about you as a brand, gather information about your products and services and as a business you can use content to position yourself as the expert in that field.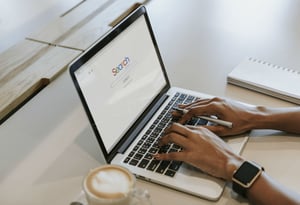 Not only this but content marketing has a real business benefit. It can generate three times more leads than paid search advertising whilst it's reported that 64% of users are more likely to buy a product online after engaging in video content proving the real value of investing in a content marketing strategy.
Content marketing has evolved since it's early inception mostly taking on the form of blogs. Now it's so much more than just blogs. It's videos, social media stories, blogs, landing pages, surveys, paid advertising, guides, emails, newsletters, gated content and more! But with so much content that can be created, how do you make sure that you plan and create the right content at the right time that moves your personas through the journey?
An Explanation of The Buyers Journey
Traditionally, there are three stages of the buyer's journey; awareness, consideration and decision. Some models show post purchase as a buyer's journey stage and whilst this stage is relevant in terms of turning your customers into advocates and really delighting them; this blog will focus on the main three stages.
Awareness
The awareness stage is when the prospective customer may first realise they have a problem. At this stage, users will start gathering more general information related to their problem or pain. A potential problem could be an operations manager realising that his workplace needs to be more organised but isn't aware of the solution.
Consideration
Entering the consideration stage, prospective customers or leads have a bigger understanding of the problem or the pain and are now start to weigh up solutions solution. Customers aren't quite ready to buy as they still need a bit of help to understand the best option.
Decision
As customers enter the decision stage, they are now more ready to buy. At this stage, customers may need to seek some final information on why they should choose a brand, product or service.
An example
Think about a time when you have been ill. You have a sore throat and then with a bit of research you find out you have strep throat. Therefore, you enter the consideration stage and consider what options are available to you to heal or relieve the symptoms of a sore throat. Finally, entering the decision stage you assess which of the solutions is the best for you.

Another example is going on holiday. We may start by being aware that we want to go on holiday to a hot country but aren't quite sure where. The user may go to a search engine and look for an article 'What hot countries are there in Europe?' From this they may find out that Spain, Italy and France are hot countries and start considering for reviews about each place or a Spain vs Italy comparison article. Finally, the individual may come to the decision that Spain seems the best choice however before they make the purchase they want to search for 'Deals in Spain.'
How to create content for each stage
As you can see, the buyer's journey is complex. Unless customers are loyal to a brand or service or know the solution they require, they will spend a lot of time researching and gathering information online.
If we bring this back to SEO and customer intent, in order to create content that resonates with your personas we must understand the language they may use when they search and what sort of content they expect at different stages. This is where keyword modifiers come in. The types of words customers use will be different depending on what stage they are in.
Awareness

Consideration

Decision

What

Where

How

Who

Why

Improve

Troubleshoot

Resolve

Best

Types

Review

Which

Service

Solution

Brand

Buy

Appointment

Deals

Discount Code

Book

Test
Once you know this, you can start mapping out content and creating content that answers queries at different points in the buyer's journey.
Types of Content
The types of content you create at different stages will vary but once you know the understand what your customers are searching for and the language they are using, you can they start mapping out the content and the format it is going to be.
Awareness Stage Content
At the awareness stage, customers are going to Google (or other search engines) looking for information to educate themselves on a particular topic or that addresses their pain. At this stage customers are not familiar with your brand or services, so educational and informative content that isn't salesy in nature is the best approach. Types of content that work well for this stage of the journey are blogs, social media posts, video, infographics, images and podcasts.
Consideration Stage Content
As your potential customers start to become aware of the solutions, during the consideration stage they will start researching in more detail on the various products and services available to them.
Types of content that can be used at this stage include quizzes, webinars, free ebooks or downloadable guides, explainer videos or webinars. Blog posts are still relevant at this point however the tone and topic will be different to what you write about in the awareness stage. A blog or video at this stage could be a comparison of two products for example.
Decision Stage Content
During the decision stage, customers may have some final questions or concerns before they buy. Using content at this stage should convince your potential customers to buy your products or services. Content at this stage include demos, case studies, FAQs, product landing pages and testimonials.
Get Started on Mapping Content
Content mapping and planning your content strategically is a good way to ensure you produce content that moves people through the journey effectively. Whilst this may be a simplified version and the customer journey may be a whole lot more complex, this should hopefully give you some top tips on how to get started.
However, if you need more help and guidance on how to plan and execute a successful content strategy or , don't hesitate to Surrey based inbound marketing agency, Innovation Visual.