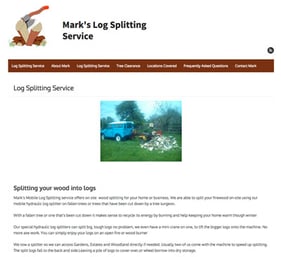 Just in time for the change of season from Summer to Autumn, Innovation Visual is proud to announce the launch of LogSplittingService.co.uk website. Mark's Log Splitting service helps those who have large rounds of wood, and splits them into manageable logs that can be used for fireplaces and wood burners with a hydraulic log splitter.
The business itself (owned by Mark Fox) was in need of a new, professional website to showcase his outstanding services. Luckily, the team at Innovation Visual was the perfect fit for the job.
The new website takes into account the needs of the modern day customer with a fully responsive website, and makes it easy for them to find out what Mark's business does and what services he is able to offer to his clients.
In a recent interview with Mark, he joyfully said "the team at Innovation Visual have done an outstanding job creating me a new website, and they have even gone beyond what was asked and pointed out new business opportunities for me. I cannot say how helpful they have been."
As we all know, many of us are busy throughout our working week, and possibly even the weekend, so we may not have time to sit at a computer, which is why making the new website mobile friendly was an essential requirement that enables the website to have a modern image with complete ease of accessibility on all platforms.
If you are needing to turn some wood into logs then why not check out Mark's new website, then you can find it at www.LogSplittingService.co.uk.