Marketing Technology (MarTech) is a rapidly expanding field that is growing in pace with the demands of businesses looking to service their customers more effectively, reduce friction from the buyers' journey and drive sales to meet growth objectives at scale.
However, the impact of the COVID-19 pandemic over the past two years has forced businesses, in particular those selling direct to the consumer, to look at different ways to find and engage with their target audiences effectively online. One of those emergent channels is $89.4Billion industry, Social Commerce.
While the idea of Social Commerce has been around for quite some time, it has really only gained a real foothold in the last five years. However, the events of the past 2 years and dramatic changes in consumer online purchase habits that led to a boom in ecommerce, have thrust it into the MarTech spotlight and brought it mainstream recognition.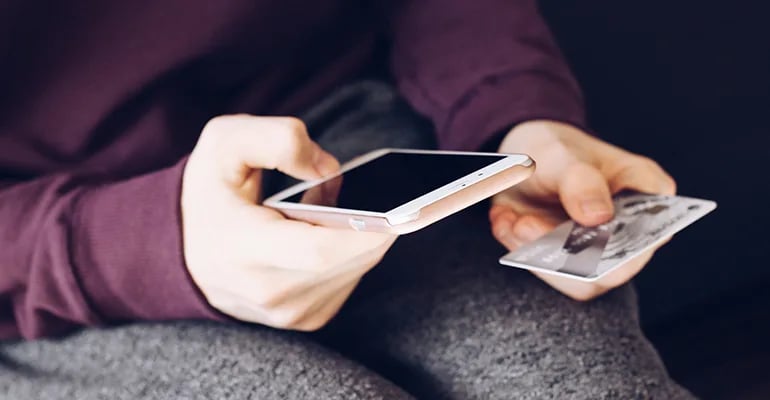 What is Social Commerce?
Social Commerce is the process of selling products (and in some cases services too) directly on social media, with the full process being completed from discovery to transaction on the platform itself.
Brands that use Social Commerce establish 'shops' on the social platform populated with images and descriptions of products for sale. Users searching on the platform are shown relevant products and can research them in terms of reviews and feedback, share them with friends and, ultimately, purchase the product all without leaving the platform.
Social Commerce should not be confused with Social Selling or eCommerce. Social Selling is the practice of building relationships with target audiences on social platforms as part of your sales process, with the aim of boosting engagement and driving traffic to your website to convert. eCommerce is similar to Social Commerce except the eCommerce transaction occurs on the brand website, not on the social platform.
The Evolution Of Social Commerce
While Social Commerce is still very much an emergent channel in terms of adoption and technological maturity, things are changing fast. The prediction that the global market will reach $605Billion by 2027 means social commerce represents a significant pie, and it appears as though a large proportion of retailers are already looking at how to claim a slice. Survey results by Statista suggest that by 2023, around 71% of small businesses plan to sell on social media platforms and it is fair to assume that the larger businesses with greater resources will be aiming to get there before them.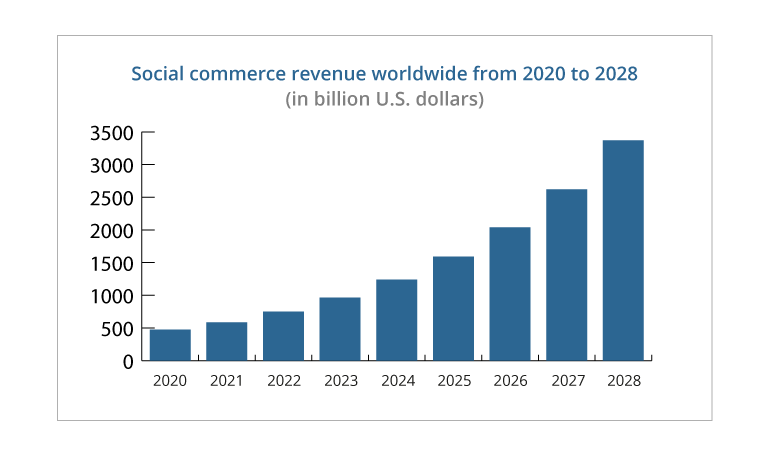 https://www.statista.com/statistics/1231944/social-commerce-global-market-size/
What Social Platforms Offer Social Commerce?
In 2021, Facebook, and by association Instagram, were the leaders in the social commerce field. They are the platforms with the most evolved functionality to date and have based their social commerce features on existing features like Facebook Marketplace and Instagram Shopping. With 56.1 million buyers in 2021, Facebook currently ranks as the top social commerce platform in the US. While every month, over130 million users engage with Instagram shopping posts. Snapping at their heels is YouTube, followed closely by Pinterest, Snapchat and TikTok.
Those last three platforms have not yet managed to evolve the breadth or depth of offering that Facebook and Instagram have achieved in terms of Social Commerce functionality and are demonstrating significantly lower penetration of the market as a result. However, they are unlikely to lag behind for long and it's telling that the hashtag #tiktokmademebuyit has already been used 8 billion times.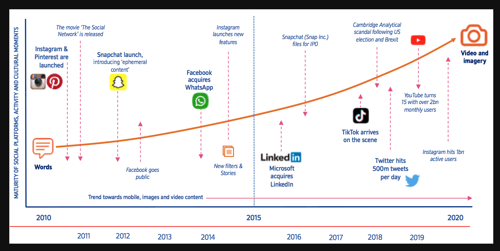 https://www.smartinsights.com/wp-content/uploads/2020/12/Rising-social-ecommerce-platforms.png
As social commerce becomes more prevalent and more familiar, we anticipate the technology evolving to reduce friction in social commerce offerings still further. We also predict a greater variety of social platforms will offer functionality to deliver seamless in-app selling.
Snapchat & The Augmented Reality Fitting Room
Snapchat appears to be looking to take social commerce several steps further than we've seen so far, by becoming an Augmented Reality (AR) fitting room, leveraging AR to allow users to virtually try on products before purchasing them via the app based on the theory that trying before buying reduces objections as well as returns and so delivers a more effective sales solution for the consumer as well as the vendor. This exciting merging of different technologies to deliver an enhanced online consumer experience will be well worth watching.
Who Uses Social Commerce?
Given its relative newness, the data around demographics for this channel is limited. However, it is thought that the key demographic for Social Commerce are users between 18-34 years, aligned with the early adopter stage of the Diffusion of Innovations Model. Currently, Social Commerce is most successful in sales of popular, lower cost products that are typically impulse bought, like clothes and accessories that pose a lower purchase risk to buyers.
As it has been estimated that about half of all US adults made a purchase via social media in 2021, it's safe to say that the answer to who is using social commerce to purchase is, a lot of people, with more joining every day.
Using Social Commerce To Drive B2C Sales
There is a lot more to say about Social Commerce and we'll be adding to our Knowledge Hub over the next few months with additional, more detailed information about this developing channel. However, given 81% of online shoppers research products on social media and eight in 10 businesses anticipate selling products or services via social media commerce platforms in the next three years, especially enterprise businesses, we foresee Social Commerce becoming a significant element of many B2C marketing strategies this year. The 'Shoppertunities' abound!
One of the key benefits of social commerce, aside from the obvious revenue generation of course, is the clarity it offers around target audiences. When customers purchase from you via Social Commerce, you know them, you can engage with them directly and understand them individually. The platform also delivers a built-in platform for you to communicate with them directly and specifically to not only drive repeat sales but referrals and word of mouth too.
A word of caution though, Social Commerce is set to be a valuable tool in the B2C marketer's arsenal, but it should never be considered the only digital point of sale you need. An effective, well-optimised ecommerce website will still be a key necessity to scaling your sales growth online and ensuring continuity of service for your customers. After all, while Social Commerce is an exciting opportunity, it is controlled by the social platforms and so any business access to it as a functionality is at their discretion.
We also anticipate Social Commerce contributing to brand awareness and visibility as users passively discover new brands and eCommerce businesses (and share them) while spending time on social media platforms.
If you'd like to talk to us about how to leverage Social Commerce for your B2C business, then we'd be delighted to talk to you about the options and how best to deliver ROI from this exciting channel. Why not get in touch to start the conversation?