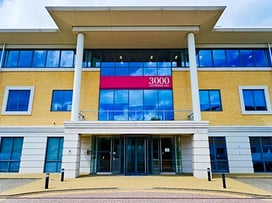 From today, 7th September, Innovation Visual has a second office located at 3000 Cathedral Hill, Guildford, Surrey. The decision to open a Guildford office was inspired by our ever-growing client list, our expanding team (it was definitely getting a bit cosy back in Haslemere!) and easier, faster access to our local clients as well as London and beyond.
It's a big change for us but our core offering remains completely unchanged; professional digital marketing services that deliver a proven return on investment and help businesses achieve the digital presence they need. Our new premises have been carefully chosen to help support us through our projected future growth, including new and exciting recruitment opportunities.
Of course, there are things we'll miss about the old office – including Poppy, the office dog – but we are delighted to be here and we're looking forward to the next phase of our journey and making Guildford our new home. Thanks to all of our loyal clients who without which we would not be continuing to expand and also the advice of expert Business Founder/CEO Mentor Martin Stillman-Jones throughout the past 12 months.
So, if you're passing by, let us know and drop in and see us! If not, you can contact us on our new office number 0333 772 0509, tweet us, or send us an email as before.