Google has announced that search results pages on the desktop will no longer show text ads in the right sidebar. Instead, as many as four text ads will display above the organic listings, and three text ads will show at the bottom of the page.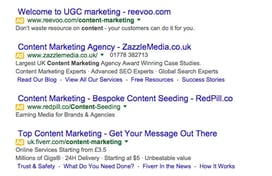 Why has Google done this?
Google could have a plan for the right side of the search results page. There is a no official answer from Google but there is a speculation that it will be related to Google Shopping Ads. Or it could be just to make the results look the same on mobile and desktop.
How will the Google Adwords Change Affect Me?
At the moment, we are just advising clients of the news and to make you aware that this change will have varying degrees of impact on your Adwords account.
It is still very early days, but it is more than likely that having fewer ads will lead to higher prices due to basic supply and demand. Yet, it may not be that simple.
If your ad is showing in the top 3-4 positions, you might see an improved click through rate (and therefore more traffic) due to the removal of the distraction of the ads on the right sidebar.
Very rarely do these changes happen in isolation, the removal of the right sidebar might impact the volume of your organic search traffic. This is because there will now be up to 4 ads being displayed, this will push the organic search results further down the page, therefore reducing the exposure of organic results.
What do I need to do?
Nothing at the moment. We just wanted to make you aware of the change. Our team of search experts will be in contact, as part of our normal function, as well as explaining any impact this change has had on your account and the appropriate plan of action, if one is needed.
We are considering various strategies to mitigate the changes, to ensure each individual client gets the absolute best return on their search marketing investment, given their specific circumstances. These include the introduction of further long tail search terms, enhancement of ad extensions and overall bidding strategy.