Google has now removed the right-hand side ads on the desktop results pages, a feature that has been with us since the system started. The new ad layout sees up to 4 ads at the top and up to 3 ads below the organic results. This means that the total number of paid ads showing on a results page has just dropped from 11 to 7, but the positioning of these ads is much more significant as to how advertisers can choose to react to the changes.
As a badged Google Partner, we are one of the countries leading Adwords agencies, in fact we finished 14th recently in a National Google Partner competition, so we are well placed to be able to help you understand the impact of the changes on the results pages. While some people have cried foul on the change in layout, we believe that the only constant in digital marketing is change, so we embrace it and look to help our clients exploit change, in order to give these clients competitive advantages. Below are 3 key implications that this will bring upon search advertisers:
Less results = higher bidding
Only 4 results in view before organic = more competition
More space to shine - if you know Adwords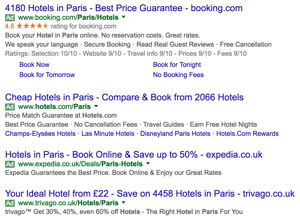 Not only has this impacted text-based paid search advertisements, it has also changed how Product Listing Ads (PLAs) appear for relevant queries. Before this change was implemented, PLAs would appear within the sidebar of the SERP, with 4 paid search text-based advertisements showing above the fold of the page. With the update in place, PLAs will now appear for relevant search queries that do not have 4 text-based paid search results.
Some may be wondering the range of these updates; which countries that this update has been rolled out in and in what languages. For those yearning the pre-update advertisement placements, it will come as a disappointment that this update has been rolled out across every region, country & language that Google covers, making this not an area specific, but a universal change to how paid search advertisements will appear for contextually relevant results.
Although this is a large change to Google's search interface, the general, best-practice principles of paid search marketing still remain the same and as relevant as ever. But as already mentioned, this change will bring forth starker competition for favoured SERP listings, as well as a greater need for additional optimisation of landing pages and ad text, in order to remain competitive and drive relevant traffic to target webpages.