Innovation Visual have been asked to be part of Waverley Council's 'Ask the Expert' event on the 29th September 2015 in Haslemere. The Ask The Expert Event is provided free for small businesses and those who are looking to start a small business by Waverley Council. By bringing together a range of experts into one place on one night business owners can benefit from asking questions on a wide range of important business subjects. The event is a chance for business people to talk informally to local experts about starting a business or expanding a business, as well as an opportunity to network and share ideas with other local entrepreneurs.
Tim Butler, founder of Innovation Visual, will be providing the expert advice on Online Marketing after being asked to participate by Waverley Council's Economic Development team. Other experts that will be available to talk to include the following areas:
Experts will be on hand to give advice from their stands on specialist subjects including: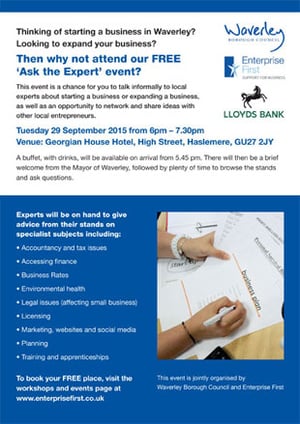 Accountancy and tax issues
Accessing finance
Business Rates
Environmental health
Legal issues (affecting small business)
Licensing
Marketing, websites and social media
Planning
Training and apprenticeships
The event starts at 5.45pm with a brief introduction from the Mayor of Waverley, followed by plenty of time to browse the stands and ask questions. Booking is required, although the event is free and there will be a buffet and drinks. In order to book your places please go to the Ask the Expert Page on Waverley Council website.
If you have any questions regarding your online marketing needs please don't hesitate to get in touch with us directly and we will be happy to talk to you about your specific needs.