HubSpot recently announced a new feature which will allow users to track and optimise their LinkedIn Ads from within the HubSpot platform. This new feature will be available in the Professional and Enterprise tiers of the Marketing Hub as part of the HubSpot Ads tool.
This Ads tool already gives HubSpot users the capability to control their Facebook and Google advertising from within the platform. Adding LinkedIn further enhances the capabilities of the platform for users and opens up a whole new audience of users that could become potential leads for businesses.
"LinkedIn is the world's largest professional network, so it was important to make its advertising tools available to our customers. HubSpot Ads provides a suite of tools that our customers can use to generate new leads and nurture them into loyal customers, all while gathering insights to make sure they're spending their time and money wisely. By adding LinkedIn ads to the platform, we're giving businesses one more option to level-up their advertising strategy and grow better." - Nicholas Holland, GM and VP of HubSpot Marketing Hub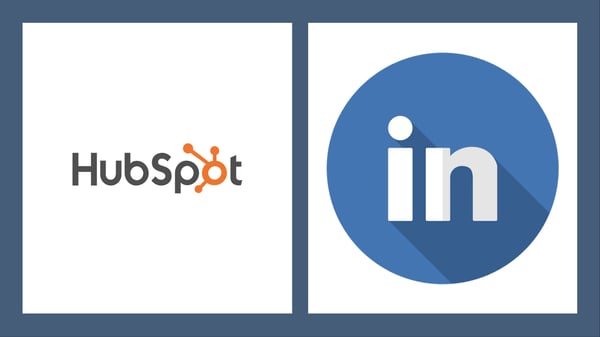 The benefits of HubSpot integrating with LinkedIn Ads
The process of connecting LinkedIn Ads to HubSpot is simple to do and will allow advertisers to target ads at over 575 million LinkedIn users via text ads, shopping campaigns and dynamic search ads all through the HubSpot Ads tool interface.
If you only want to target key decision makers with your LinkedIn ads i.e. the director or c-suite level employee, then you can control targeting to achieve this. Similarly, if you want to directly target one specific company, then this can also be done.
There are added advantages of integrating LinkedIn Ads with HubSpot including:
The ability to create target audiences from any data point within the HubSpot CRM. They can be easily synced between HubSpot and LinkedIn
Automatically sync, de-dupe and nurture new leads from LinkedIn's Lead Generation ads to the HubSpot CRM to create a seamless list of target leads
Reporting allows you to see if LinkedIn ad spending is delivering an ROI
Better align LinkedIn advertising with the rest of the company's advertising efforts
What does this mean for HubSpot users?
If you're using the Professional or Enterprise tiers of the Marketing Hub, then you can start making use of this latest update straight away. However, if you're currently using the Free or Starter tiers of HubSpot, then you won't be able to make use of the new feature at this point.
To summarise, this update is continuing to show HubSpot's commitment to constantly improving its platform and making the lives of the people that use its tools, just a little easier. This update should not only help to streamline your LinkedIn advertising but also help you make better use of the HubSpot CRM to better organise your leads.
Enhance your LinkedIn advertising
LinkedIn is the number one B2B social platform, making it ideal for HubSpot users actively looking to reach their ideal customer. But the connections between HubSpot and LinkedIn go beyond this latest ads integration. HubSpot already offers an integration with LinkedIn Sales Navigator (an advanced sales tool that aids sales teams, organizations, and individuals to build and nurture customer relationships on the network) and the ability to post organically to LinkedIn through its social media tools.
Here at Innovation Visual we are a fully badged HubSpot Partner, so if you would like to find out more about how you can use HubSpot Ad Tools then please contact our team who will be able to help.