Buxton Heating is a local heating company servicing the Haslemere and Guildford area. Innovation Visual are proud to have launched their new website earlier today. Buxton Heating are a dedicated team of Worcester Bosch Diamond Installers, they are experts in heating systems, boiler repairs, boiler installations, in both domestic and commercial environments. If you live within twenty miles of Haslemere , Surrey, you may have seen one of their many vans on the road!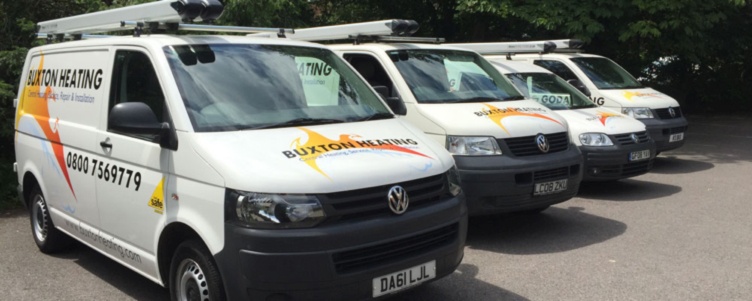 Buxton Heating are a well known and respected company not only due to their expertise in heating but due to their proven track record and excellent communication skills when dealing with their customers. Their friendly and reliable team of engineers enjoy building great customer relations who end up using their services time and time again. You can read just some of their customer's testimonials such as:
"I was so impressed that I would very much like you to be the one that services and maintains my boiler in the future"
Mr. Simmons – Farnborough
"New boiler fitted Thorough, reliable and trustworthy. Richard always takes the time to explain his work and leaves you confident in operating the new boiler. Extremely friendly chap! I would recommend them."
Mrs. Fearn – Liss
Building a New Website for Buxton Heating
So what was our involvement with Buxton Heating? Well we had the honour of being commissioned to create Buxton Heating a new website and to combine it with our Search Engine Optimisation (SEO) knowledge. Buxton Heating chose to work with local company Innovation Visual meant expert knowledge and face-to-face contact in order to obtain the business requirements to help continue taking their business forward.
The resulting brief for the website build was to provide a design that would continue to show Buxton Heating as not only a professional company but one that really cared about its customers. The completed design was one that was user and mobile-friendly, that was easy to navigate with simple dropdown menu's, that contained well organised pages that described each heating type service. This would give customer's confidence in the expertise of the Buxton team, the content would be written in plain English, jargon-free, to engage with customers in a helpful and easy to understand format.
The Innovation Visual team achieved the right outcome as the feedback on the website has been that its ease of use makes finding and contacting Buxton Heating straightforward. When customers have heating problems and issues then they want to be able to find a reliable, trusted, local company quickly when searching Google. We know searching for a local heating engineer in and around Haslemere has been made easier because the Buxton website has been optimised for such as 'central heating Haslemere','commercial boiler Surrey' and is climbing the rankings on Google.
If you want to visit Buxton Heating or are even in need of a heating engineer then their website is http://buxtonheating.com/ We would highly recommend them.