Our MarTech team dedicate time every month to ensure that they are up to date with the latest features and updates from HubSpot. We want to make sure that we can leverage each element of functionality to ensure our clients are utilising their HubSpot portal as effectively as possible.
February saw exciting updates in all the hubs including embedded attribution reporting for Marketing pro customers, Microsoft integration for all HubSpot customers and even a completely new feature called HubSpot Payments.
We've put this blog together to dive into more detail about some of the newest and most exciting product updates announced this month.
All Hubs
Association improvements
Association Improvements will be available for all new HubSpot accounts created on or after January 15th, 2022 and will roll out to all existing customers on April 15th, 2022. As part of this functionality, Professional and Enterprise customers will also have access to create association labels to describe the relationships between associated records and build lists and workflow actions based on those labels.
Marketing Hub
Embedded Attribution Reporting
Campaign reporting for Marketing Hub Pro and Enterprise customers will now include embedded attribution reporting, providing customers a holistic way of measuring campaign performance. This is currently available in Public Beta.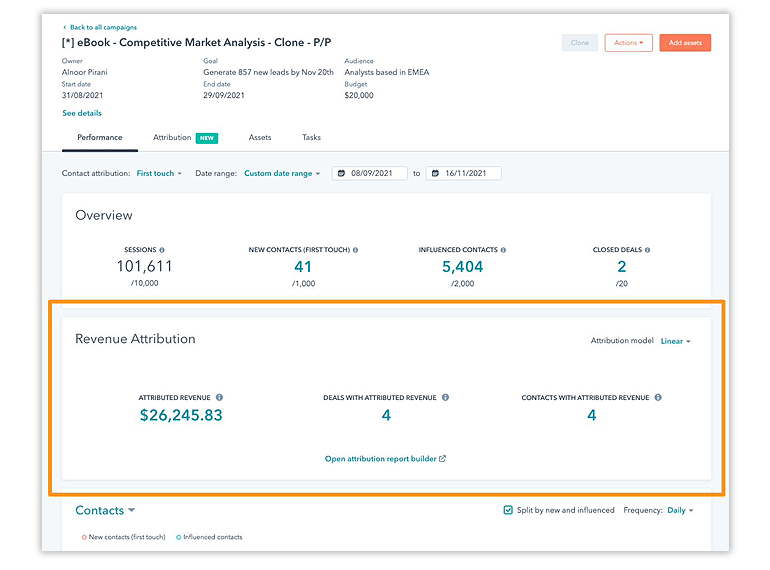 Marketing and CMS Hub
HubL Functionality for Sections on Pages
CMS Developers can now scaffold out sections in the page editor, then copy the HubL (HubSpot code) that is generated from the section to use as a head start in building their own custom sections. This is also available for CMS Starter or Marketing & CMS Pro and Enterprise customers.
Page Metadata Descriptions in SEO Recommendations
The following meta description-based recommendations in SEO Recommendations Home will now display the page meta description from the most recent domain scan. This will include suggestions such as address pages with duplicate meta description, remove title from meta description and shorten meta description. This is currently available in Public Beta for Pro and Enterprise customers.

Sales Hub
Deal Stage Forecasting
Automatically see deals grouped by stage and use this information to project revenue more easily and without complicated setup or configuration. Configuring categories are no longer required to effectively use the Forecast tool, allowing users to leverage deal stages to easily project revenue. Please note this feature is only available for Sales Pro and Enterprise customers.

Service Hub
Multi-Step Custom Feedback Survey
Filling out a long survey can be a tedious process for customers adding unwanted friction to their experience. To alleviate this issue, HubSpot has developed the ability to break surveys into multiple steps, by grouping similar questions together and adding logic so customers are only answering questions that are relevant. This feature is currently available in Public Beta on Service Pro and Enterprise.
Post-Chat Feedback Collection
Support agents can now collect customer satisfaction feedback on their chat conversations, directly from within the chat and immediately after the chat conversation is closed. Feedback can be collected for Chatbots as well. This feature is currently available in Public Beta on Service Pro and Enterprise.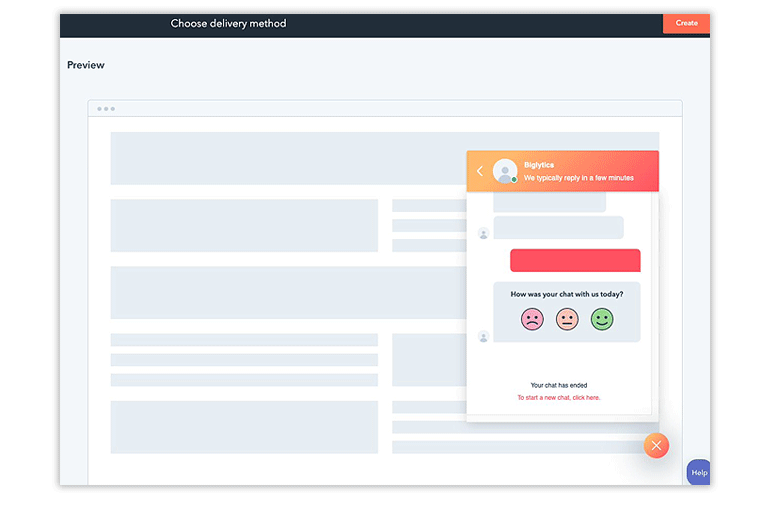 Question Bank for Custom Feedback Surveys
Users can now select previously used survey questions from a question bank to easily and quickly build custom feedback surveys. Questions can be dragged and dropped into custom surveys, and helpfully, in order to eliminate duplicate questions, once a question is used in a survey, it will no longer populate within the question bank for that survey. This is available in Service Pro and Enterprise.
Operations Hub
Update Workflows with Google Sheets
Through the Google Sheets workflow integration, you can now update existing rows within your sheet (in addition to creating new rows). This requires users to install the Google Sheets integration from the App Marketplace first. This is available Marketing, Sales, Service and Ops Hub Pro and Enterprise.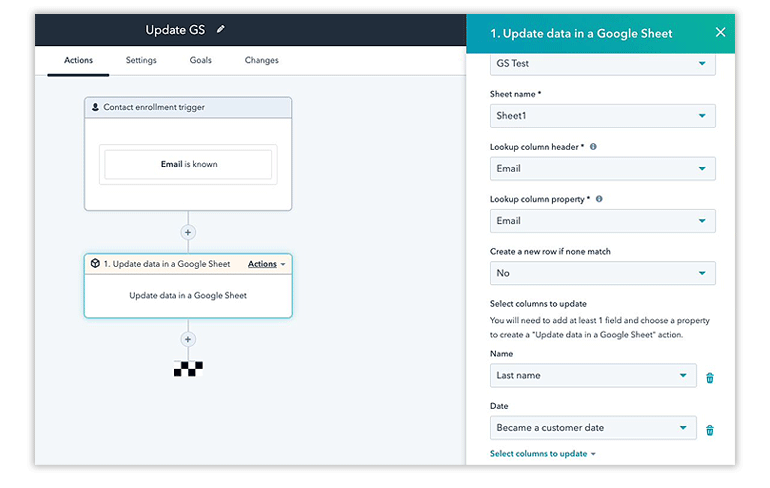 QuickBooks Workflow Actions
There are now three QuickBooks workflow actions available for deal and quote based workflows:
1. Create a QuickBooks invoice,
2. Create a QuickBooks estimate,
3. Create a QuickBooks sales receipt
Please note that this requires users to first install the QuickBooks integration from the App Marketplace. This is available Marketing, Sales, Service and Ops Hub Pro and Enterprise.

CRM & Integrations
Microsoft Teams Integration
The new Microsoft Teams Integration is now in Beta, allowing HubSpot customers to send their contacts Microsoft Teams meeting links, and receive HubSpot notifications in Microsoft Teams. Once Microsoft Teams is connected to HubSpot, the HubSpot bot will be added to a Customer's Microsoft Teams account. This available on all hubs from the free version to Enterprise.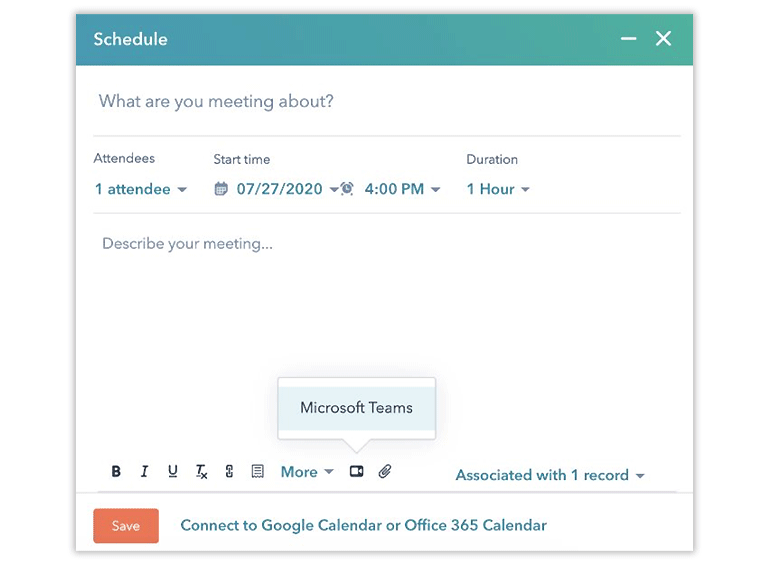 Add Products from Shopify and Four Other Apps as Line Items on Deals and Quotes
Customers can now use their Shopify products synced into HubSpot as line items on deals and quotes. Additionally, products synced from other apps built on the Ecommerce Bridge API–(including Shopify Sync by Unific, WooCommerce by MakeWebBetter, Magento Connector for HubSpot, Prestashop by Tiralíneas, as well as other custom integrations into HubSpot), can be used as line items on deals and quotes as well. This new functionality ensures that product information is consistent between systems. This available on all hubs from the free version to Enterprise.
Scatter Plots in Custom Report Builder
The custom report builder now supports a scatter plot, which is best used when looking to observe and visually display the relationship between multiple variables. Scatter plots help show the relationship between variables and identify trends and outliers within a dataset. This feature is currently available in Public Beta on all hubs Pro and Enterprise.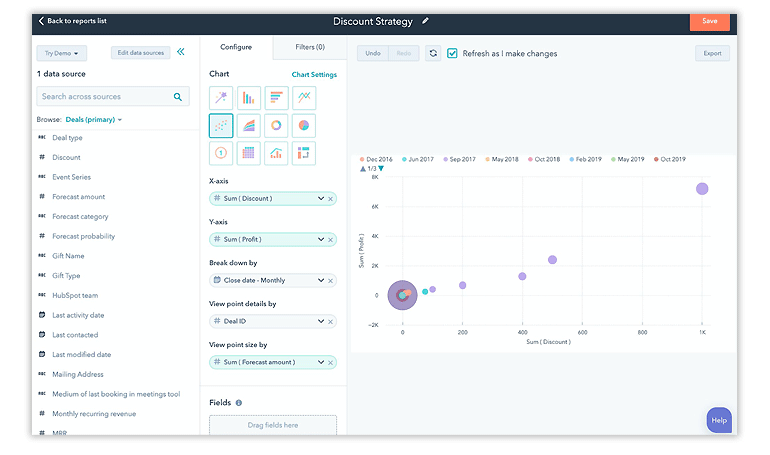 Other Updates
HubSpot Payments
HubSpot Payments have officially been rolled out. It is a native solution that allows HubSpot customers to seamlessly accept digital payments from buyers. Payment links, which send buyers to a branded checkout page, can now be added to quotes for a streamlined buying process. Additionally, customers can set up recurring payments for subscriptions, memberships, retainers, and more. This feature is currently available in Public Beta on all hubs from Starter to Enterprise.

Select Hublet on Signup
After the EU Hublet (A Hublet is where your data will be hosted) was launched in July 2021, HubSpot users were automatically assigned to either the EU or US Hublet based on their location. Now, while HubSpot will still recommend a Hublet based on user location, users can now override the recommendation during signup. This is available on all hubs from the free version to Enterprise.

Get in touch
If you'd like to find out more about these announcements or HubSpot in general and how it can be used to drive your organisations lead and revenue generation then why not get in touch? We are Platinum HubSpot Partners with years of experience in helping businesses leverage it to drive sales and we'd be happy to show you how the platform can be moulded to fit your business structure and deliver results.