Gosia has been working with Innovation Visual for a few months now, so it's high time we officially welcomed her to the Team! She is a valuable member of our growing MartTech hub and brings a wealth of knowledge from her extensive experience in digital marketing, particularly in marketing automation and HubSot workflows.
Gosia is part of our Polish based team and lives near Gdańsk, she will be working with our clients as a HubSpot Specialist, to ensure that their business objectives are best supported by the most appropriate MarTech solutions.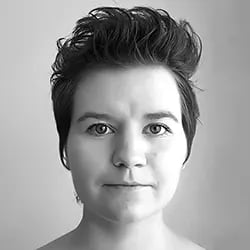 Gosia has a BA in English Translation and ten years experience as a digital marketing specialist working with companies across Europe. Her specialisms lie in content creation for target audiences, the development of web assets, and developing and executing SEO strategy. She loves working with the HubSpot CRM, and has lots of experience implementing it into organisations, which makes her a great fit for a Diamond Partner HubSpot Agency!
Gosia has nearly 7 years of experience working with eCommerce and SaaS B2B startups, and has gotten involved with web and mobile technology as well as design aspects, to compliment her specialities in content and marketing automation.
Gosia has already made a huge positive impact on our company culture, by organising donations of money and items for charities in Poland who are helping the millions of displaced Ukrainian refugees. Read more about the work she has done and the charities that Innovation Visual supports.
As the Innovation Visual team continues to grow we are always on the look out for our next new brilliant addition. If you think you might be our next rockstar 'Visualiser' then why not check out our careers page? We'd love to hear from you.