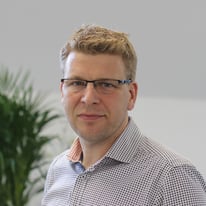 In the wake of a tumultuous year, the Innovation Visual team simply couldn't let the opportunity pass to nominate our CEO Tim Butler as Lockdown Leader of the year in the SME National Business Awards 2020.
Find out why we think he deserves to win this prestigious award.
What are the SME National Business Awards?
Small and Medium Enterprises are a major part of any industry and responsible for helping to drive competition and innovation in every economic sector. For four years now, the SME National Business Awards #SMENationals have been a prestigious opportunity for SMEs to stand out and shine in 16 categories. The black tie awards are held at Wembley Stadium, who are also a partner and sponsor, alongside Dell Technologies, the Newmarket Jockey Club and the University of Cambridge Judge Business School.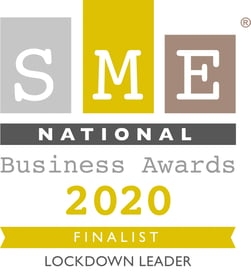 This year necessitated the addition of two new awards to acknowledge the accomplishments of SMEs against unprecedented circumstances – Business Chameleon and Lockdown Leader.
Lockdown Leader
This award was created to celebrate those individuals who went above and beyond, in extreme circumstances and economic difficulties to steer a course for their organisation through the choppy waters of 2020. This award will go to the person who has most kept their team on course, motivated, supported and informed despite changes to working contexts, someone who has not only continued to inspire their team with optimism and passion but proven the value of this approach through results and business growth.
The Innovation Visual team believes that Tim Butler is this leader. In fact, at our Christmas party, we awarded him our most prestigious award yet:
The Best Boss to Work for During the Apocalypse
He even has a certificate to prove it!
Tim Butler & Innovation Visual
The current global coronavirus crisis has brought many challenges to individuals, economies, and companies worldwide. Tim sought to battle the changing global markets and economic landscape by acting quickly to ensure the safety of our team members. The team adapted very quickly and efficiently to working from home whilst maintaining and even increasing the high level of output that our clients have come to expect. This has been evidenced by the fact that we have been able to increase the value add to our clients too. This is a credit to Tim, who's intelligent and compassionate leadership has kept the business riding high during a time of great uncertainty
In spring 2020 we reached Gold and then, shortly afterwards, Platinum HubSpot Partner Status. We have increased lead generation by over 1000% in less than three months for one SaaS client, Applaud. By 20th April 2020, our integrated campaigns saw a 1,125% increase in lead generation from paid media compared with the previous 6 months!
We rebuilt the website for David Shepherd Wildlife Foundation, completely free of charge and on launch day raised over £12,000 in a single afternoon! This is a massive success for the charity and also for Innovation Visual who take pride in being a performance marketing agency, led by results for our clients. Having been let down by other agency and web developers, who wanted to charge thousands for an eCommerce website, we were very happy to help this fantastic charity. With unprecedented lockdown measures across the globe, it became clear that this new website would have an even more vital role at a crucial time of fund raising for the Foundation so worked tirelessly to ensure that the site was ready to take payments for purchases and donations.
We are immensely proud of our Team's hard work and the results they achieve week in, week out. This has been of particular note since lockdown as the quality of our output has only increased and each individual has taken to working from home like an old hand. We feel that their achievements and that of our leadership should be acknowledged as much as the company's!
Tim's decision to invest in the team, rather than cut back as other agencies have done, resulted in Innovation Visual gaining a dedicated in-house marketer this year too. In turn this meant that we were able to spend time focusing on our own SEO and marketing which involved completely restructuring our content and building our Knowledge Hub with pillar pages and content clusters. The Hub is effectively a download of the collective knowledge of the entire team and as such is an ever-expanding source of expertise for digital marketing.
We increased our activity with webinars, newsletters, social posts, articles, podcasts, videos, workflows and conversational marketing. We further developed and reinforced our partnerships with HubSpot, SEMrush, Drift, Google, Trustpilot and Microsoft, amongst others.
Through careful monitoring of finances, ambitious business planning and the ability to adapt quickly and communicate extraordinarily well with the team, Tim has been able to retain a full complement of staff without the need to furlough anyone. His strategy of #SurviveThenThrive was so successfully implemented that, where other agencies have floundered this year, we have flourished. In fact, we quickly updated the strategy to #ThenThrive! Under his leadership we have gained 4 new team members, 8 new retainer clients and had several consecutive months of record turnover in less than 12 months.
In uncertain times Tim is ensuring that we are not only surviving but thriving and helping our clients to do the same.
Innovation Visual was recently described in an interview by Robert Craven of The Directors Centre as :
'One of the bedrocks of digital marketing because of the high quality of their work.
They do amazing work but fly under the radar'.
Awards Ceremony
Due to current restrictions, the black-tie awards ceremony has been pushed back to 28th July 2021, and will take place at Wembley stadium. We really hope that the judges will recognise the hard work and determination that Tim has put in this year to support the organisation and his team. He is definitely our Lockdown Leader!
Get in touch with our amazing team to see how we can identify just the expertise you need to drive your business results too.