The day I joined Innovation Visual
Hi there! I'm Clotilde and I've just joined the team at Innovation Visual, in Surrey. I'm very excited to be here and I thought I'd introduce myself and share my first impression.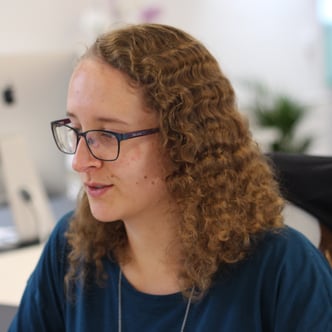 A bit about me
Three years ago, I completed my Master's degree in Marketing & Commerce in France - where I'm from - and decided to move to England. I started working as a Marketing Executive for a wine comparison website. That's how I discovered the fascinating world of Digital Marketing and all the weird terms that go with it: SEO, PPC, CPC, BBC.
My role was extremely varied, learning about all kinds of subjects from Search Engine Optimisation to Paid Search, from Social Media to Email Marketing, while discovering a lot about wine. I became more aware of the interconnection between all these areas and wanted to know more. However, as I was the only marketing person in the company, I started feeling a bit lonely not being able to exchange opinions or tips with other colleagues from the field. This is when I decided to look towards the agency side of things and found Innovation Visual.
My first day at Innovation Visual
I arrived on a sunny Monday morning, both excited and slightly nervous. The idyllic scenery took my breath away and helped me relax. The office is just outside Godalming in a little village called Eashing. It was built on a small island surrounded by the River Way. Absolutely lovely! It's also just next to a fantastic pub called The Stag on the River. Now that's convenient! Innovation Visual is sharing offices with Brightstarr, digital workplace experts, who have made the place a very relaxed and stylish environment to work in.
The team welcomed me at my desk with a gift bag full of Google goodies, business cards and a lovely branded mug. I was pleased to see that my computer was already set up with everything I could possibly need. I arrived on a busy week and took part in a few client meetings. It was a great opportunity to introduce myself and understand more about their business and challenges. I was amazed to see how friendly everyone is and I could sense the trust and strong connection between Innovation Visual and clients.
What's next?
My quest for digital knowledge has just started and I'm confident that joining Innovation Visual will help me fulfil it. I've already started learning and I passed three exams to be AdWords certified. I'm currently working on a fourth exam to be Google Analytics certified. This is one of the reasons why I joined: the relentless training to reach excellence and be prepared to adapt to the ever-changing industry that is Digital Marketing.
I do believe in Digital Marketing as a key tool to improve profit and reach your goals as a company, not just to flatter your ego because you're ranking number one in Google. That's why I chose Innovation Visual, because we're on the same page. In just a few days, I'm already impressed by the dedication to clients:
1. Understand their goal to build a strong strategy
2. Work closely with them to complete their efforts
3. Create accurate and clear reports to show results and give insights
I can't wait to meet all the great companies we work with and start contributing to their success stories.