We are proud to announce that yesterday Innovation Visuals' SEO Manager, Oktawiusz, received his Google Squared Online completion certificate, which officially confirms that he passed this online marketing course and was awarded a distinction! This means that he was in the top 10% of students on his cohort! Congratulations!
This is also great news for the Innovation Visual team because our aim is to self-develop and widen our knowledge in digital marketing continuously.
What is Squared Online?
Squared Online is a digital marketing programme addressed to the digital professionals and university graduates who want to extend their marketing horizon and improve their online skills. Since this is an advanced level certificate, to start the course you need a first or second university degree. The other possibility is to have at least three months of work experience in digital marketing or a level four marketing qualification (such as CIM).
Oktawiusz's journey through this 6 month course started at the beginning of January 2016, when he visited the Google headquarters in London for an introductory meeting, which was also joined by over fifty other Squared future students.
After two weeks the course kicked off with the Induction module, the aim of this was to familiarise all the students with the Google Squared rules, systems and grading methods. Taking part in the induction area is a good way to learn more about the programme itself; it showed to all who joined the January cohort how to navigate throughout the Virtual Campus built by Google and their partners exclusively for the purpose of the course. The induction explained in details how the course would look like and what the students need to do to pass it.
The course ended mid June, while the graduation ceremony took place on the 6th of July.
A Few Words about the Course Plan
Squared Online consists of six modules, which are:
Induction (Module 0)
Module 1: Think Disruptive
Module 2: A Connected World
Module 3: Think Optimised
Module 4: Think like a Brand
Module: The ongoing revolution
Each module lasts 2 weeks and contains a different analysis of contemporary marketing. During the course of each module students need to undertake a number of different activities, such as quizzes, tests and feedback tasks and they need to pass with at least 90% in all the tasks in order to graduate. The most important aspect of Google Squared is the live classes led by the course tutors, as well as the group and individual projects.
Live Classes and Virtual Group Collaboration
The essential part of the whole programme is to connect different people from around the world and encourage them to be influential to each other. In order to achieve that goal, the course, although virtual, encourages the students to participate in weekly live sessions, which describes one of the digital niches and illustrates it with a number of examples. Each of the live classes are led by prominent digital personalities, such as entrepreneurs, Googlers and marketing gurus.
The second way of engaging the community is the virtual team work concept developed by the course founders. As mentioned previously, the core of Squared is mostly about collaboration. If then you want to pass the course, you will be allocated to a virtual team consisting of an average of 6-7 people. The team will need to work on a few different marketing projects and meet their deadlines, something we are all familiar with, no matter if you are an agency or an in-house marketer.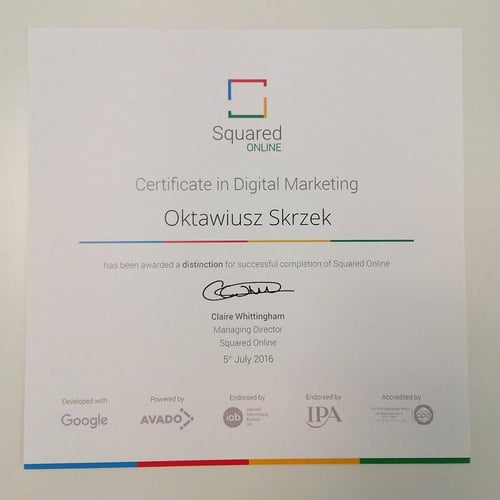 Squared Online – Our Conclusions
Google and Avado Partnership developed a single semester marketing course which seems to be the answer to the 21st century's global marketing demands. This surge in technological developments might only be the start. That is why it is important that you are up to date with your digital knowledge. And that is why you should join Squared Online.
While working on the activities prepared by the tutors and course directors, due to the highly engaging nature of the tasks and lessons, it's easy to lose track of time, and before you know it it's almost completed. If you are worried about your time management or that your marketing skills are not up to scratch, it is important to remember that the pass rate is on average, high.
Our very own Oktawiusz believes that the most important thing to remember when undertaking the course is to keep to the deadlines and ensure you uphold effective time management. By doing this it is easier to focus on other elements of the Squared journey. The second crucial point is to keep the ball rolling in terms of the interpersonal communication. When you engage with your team-members effectively, you are able to achieve a lot more because of the shared information people can benefit from.
So by keeping these 2 points in mind, you are in with a very good chance of passing Squared Online with a distinction!
Good luck!