Innovation Visual are proud to continue to sponsor rising star Phoenix Goodman, in her Taekwondo career, and we are delighted that she has shared an update of what she has been up to this year so far.
By Phoenix Goodman herself:
Journey to Gold Medal Champion
Friendly Competition
On the 11th January 2020, I travelled to London with my local club, LMC to attend a Bianca Walkden and Aaron Cook seminar hosted at the Academy CMS club. Bianca is a world champion and Aaron is a three-time European champion. There was a mini competition with all the boys and girls who could score first in a match and I won overall and was awarded a Bianca Walkden pop socket.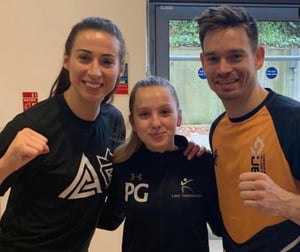 Ultimate Championships
On the 19th January 2020, I went to Doncaster to compete at the Ultimate Championships and because there was no-one in my weight or above I had to compete at -51 kg when my weight is -44 kg but I had 2 fights and won both of them resulting in a gold medal. I point gapped both opponents which means I won by 20 points.
Tough Training Schedule
On the 25th January 2020, I was invited to take part in test matches in Manchester with the Junior development squad and I had 3 fights.
On the 1st February 2020, I travelled to Manchester again and trained with the cadet development squad for 4 hours.
On the 8th February, a week after, I travelled to Doncaster where I trained with Ultimate Taekwondo Club which is my club for European competitions and then after training we drove to Manchester and the day after I trained with the Cadet development squad again.
Dutch Open – European Competition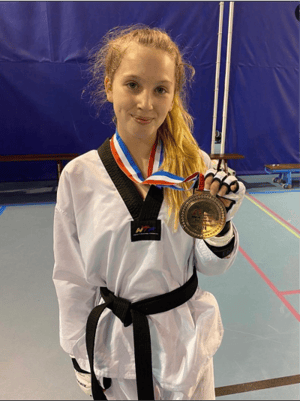 On the 9th March 2020, I travelled to the Netherlands with Ultimate Taekwondo to compete at the Dutch open which is classed as a G1 which is the second highest level I can compete at, at my age. This was my first European competition as a Junior as I transferred from a Cadet to a Junior in January. Therefore, I have the opportunity to be selected into the Junior development squad in June or July. Competitions like the Dutch open are events the Junior selection team take into consideration when picking players to represent them. I had 3 fights at the Dutch Open and won my first one 17-14 against Germany, I won my second fight 22-2 against France and won my third match 11-7 against France resulting in a Gold medal at a G1 championship as a Junior. This was a big achievement because it was my first competition in Juniors and was one of the competitions on the list of competitions the selection panel look at.
Upcoming Events
Events I have been entered into which I sadly won't be able to attend due to current pandemic;
Ireland Comp 18th April
Luxembourg open 13th-14th June
2x cadet development squad training in Manchester
I was also invited to an overnight training camp with the Junior Development squad in the April half term.
Chasing the Dream
Hopefully we will be back to normality soon and thank you Innovation Visual for the continued support to help me achieve my dream!