A month ago, the team at Innovation Visual participated in Google AdWords' Mobile Ads Certification Challenge. The idea was to push agencies and their staff to pass the AdWords Mobile Certification as Google are very serious about mobile friendly websites. Our team is always eager to learn, develop and keep up-to-date with the ever-changing world of digital marketing. Although we're quite busy delivering ROI for our clients, we put some time aside to study and take the exam. Our efforts were rewarded, as we're named amongst the ten agencies who won the challenge!
=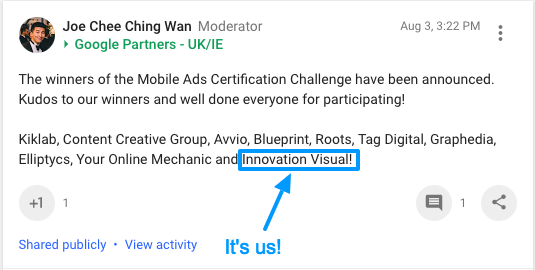 Our Award From Google Partners!
We were pleased to receive our award, pictured below, from Google Partners and we will be hoping to add to our collection over the next few months by entering a number of other competitions.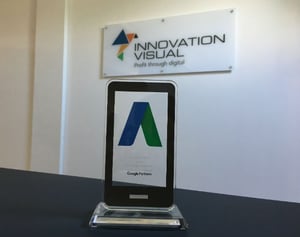 Why Mobile is so important?
This challenge is not just about scoring points but it's also about highlighting the importance of mobile friendly websites when it comes to Search Engine Marketing. An impressive 86% of people over 16 use a smartphone. Yep, that's a lot of people… Plus, 66% of the online population access the internet via a smartphone at least as often as they do it through a desktop. This means your website needs to be mobile friendly: load faster, adapt to smaller screens and be easy to navigate.
Not only does your website need to be mobile friendly, but your whole digital marketing strategy needs to include mobile. Your ads can be viewed anywhere at any time so your message needs to correspond to what people are looking for at that particular moment. You also need to consider mobile when measuring the results of your marketing efforts as it plays a big part in the customer journey. Your customers might use their mobile to do some research before buying on a desktop. Your analysis needs to be cross-device so that you can distribute your resources where needed.
If this sounds a bit daunting to you, feel free to contact us, we're now mobile experts!