Innovation Visual Sponsor a Rising Taekwondo Champion

Meet Phoenix Goodman
Phoenix Goodman or Fi, is 11 years old and already mastering the ancient art of Taekwondo. Fi is currently a Taekwondo Cadet fighting in the 33kg category and is British National Champion for 2015 and 2016. Fi's ambition is to compete in this sport to become part of The GB Team and to participate in the 2024 Olympics.
Already this is looking very likely, due to her winning performances and just this weekend Fi competed in the Belgium Open, winning all three fights bringing home Gold!
Oh, and Fi is also determined to study hard and become a doctor, she really is a very focused and smart girl who loves her family and three younger sisters too!
The Belgium Open 2017
Although Fi is used to the challenges that competing brings, the Belgium Open set new ones because it was the first event where Fi competed without her parents. Looked after by a professional team of people and accompanied by her coaches and team mates this was a big step for Fi. But Fi rose to the challenge and won three fights in a row to win Gold.
Fi competed alone with her club for the first time because her parents have three other girls to look after too! And talent must run in the family as her sister Darcie Goodman is very gifted at gymnastics and tumbling and she too may also compete at national level.
So What is Taekwondo or Tae Kwon Do?
Tae Kwon Do was developed during the 1940's and 1950's by various martial artists by incorporating elements of karate and Chinese martial arts with indigenous Korean martial arts traditions such as Taekkyeon, Subak, and Gwonbeop.
Today it is regarded as a modern form of Korean self defence and was formally recognised in 1955 and brought to the UK in 1967, although its origins are recognised as one of the oldest forms of martial arts in the world dating back over 2,000 years.
Tae Kwon Do is a weight category sport and the sparring rules are such that you compete against an opponent according to body weight and grade of belt category which can mean fighting an opponent either younger or older. Because Fi has reached red belt with a black tag category she will be going for her final grading this month which means that she will become a black belt.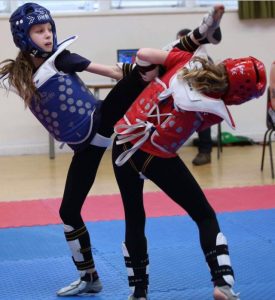 The name Tae Kwon Do was selected for its appropriate description of the art, Tae meaning 'foot', Kwon meaning 'hand' and Do meaning 'art'.
Our Sponsorship
Innovation Visual has a vision; to be an ethical business, to look after their customers and help them be successful online. To reward individuals that work hard and to give back to society where it can. The decision to sponsor an athlete such as Phoenix Goodman therefore is a one of our proudest achievements. This is because Phoenix is already a champion because of her attitude and confidence, where she believes there is no limit to what you can achieve. We felt that had to be supported so Fi became the perfect candidate for a sports sponsorship 2017. The sponsorship funding will allow Fi to compete abroad which is a necessary step towards competing for Great Britain and the Olympics 2024.
Whats Next for Phoenix?
Phoenix will continue to train up to 10 hours per week after school and she has been doing this since aged 7. She is fully committed and Fi comments on her sponsorship deal and being able to compete in Belgium and Greece;
"I embrace this opportunity and without the support from Innovation Visual Ltd I wouldn't have been able to attend. I'm so very grateful. My next competition is Greece and this will be at the end of April. It's a big experience and I will come away with huge amounts of experience."
We shall be keeping up to date with Phoenix's sporting achievements and writing about them and the training on a regular basis, watch this space!