The Innovation Visual team are pleased to work with PedalCover, an award winning, combined home and bike insurance provider based in Swansea.
With a couple of very keen cyclists in the Innovation Visual office, who are customers of PedalCover themselves, there is certainly a lot of excitement amongst us about working with PedalCover.
Who Are PedalCover & What Do They Do?
PedalCover was founded by Darren Thomas, who enjoyed an early career as a competitive cyclist competing in a number of road racing events before an unfortunate injury brought his promising cycling career to an end. Darren then turned his attention to the insurance industry.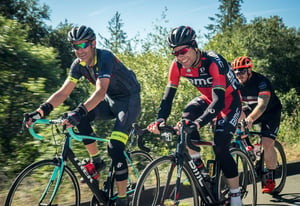 His passion for cycling remained and, after struggling to find an adequate policy to cover his selection of bikes, he decided that it was time someone designed a policy to meet the needs of cyclists and triathletes. In 2014 Darren founded Pedalcover and the company has gone from strength-to-strength providing highly competitive combined home and bike insurance cover to people throughout the UK.
Assisting New Website Build
PedalCover are currently in the process of building a new website and Innovation Visual will be taking an active role in helping with the website build from an SEO perspective.
This has involved carrying out extensive keyword research to identify key industry terms to optimise the PedalCover website for, and to offer guidance into the creation of new content.
When building a website, it is extremely important to take search engine optimisation into consideration. We have worked with a number of clients in the past who launched a new website which looked amazing but didn't rank in search engines. PedalCover have had the foresight to understand the importance of building a website by taking SEO into consideration from the very beginning and this should serve the website well from a search visibility perspective.
Digital Marketing Work for PedalCover
Search Engine Optimisation
Insurance cover is a highly competitive industry, with a number of well-established providers, but PedalCover are offering a unique service. Their main policy offers combined Home and Bike insurance under one policy, with fantastic benefits to suit the needs of cyclists and triathletes.
It is therefore vital to make sure that the website is visible in organic search for terms such as 'home and bike insurance', as this is exactly what PedalCover specialise in. In addition to this, Innovation Visual will be working on improving the rankings for PedalCover's other insurance policy offerings such as motorhome and travel insurance, which are an important part of the business' continued growth.
Extensive keyword research has been carried out to identify key industry terms to optimise the PedalCover website for, and to offer guidance with regards to the creation of new content and page creation.
Paid Search
Paid search advertising is an effective way for your website to be found in search results. Using keywords identified by our research, the Innovation Visual team have been preparing new campaigns and writing ads in AdWords to ensure PedalCover are showing to people interested in their products.
Innovation Visual are a Google Partner agency, which gives us access to specific industry data to better optimise our paid search campaigns to deliver exceptional results for our clients.
Pedalling to Success
If you are a bike enthusiast and struggling to insure your bikes, then why not find out more about PedalCover's home and bike insurance cover?
The PedalCover team are all passionate cyclists themselves, so they really do know their stuff. When you contact PedalCover, you will be speaking to a UK based team who share your passion for cycling and really understand your requirements.
If you would like to find out more about our digital consultancy services then please contact our search engine specialists who will be happy to help you.