Recent Promotions at Innovation Visual
We are delighted to announce that two of our longest-serving employees, Clotilde Watson and Pete Hibbard, have been promoted to the roles of Performance Director and Operations Director respectively. Pete and Clotilde have been part of Innovation Visual's journey for over four years and have been heavily involved with the growth and development of the business.
Clotilde Watson – Performance Director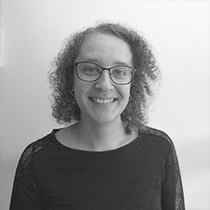 Clotilde started working for Innovation Visual in 2017 as Senior Digital Marketing Executive. During her time at the company, she has progressed through the ranks from her original role to Digital Marketing Consultant and now to Performance Director. Clotilde is responsible for the strategic direction of a large number of our clients across all aspects of digital marketing. She works with the client leads to develop and implement effective digital marketing strategies which drive results. Clotilde has an extensive range of digital marketing skills, which have been developed throughout her time at Innovation Visual. Her specialisms include Google Analytics, digital strategy, Paid Search (PPC), User Experience (UX) and Conversion Rate Optimisation (CRO).

"Tim has given me great opportunities to learn and develop and grow alongside the business. I started with very limited knowledge in PPC and I quickly became an expert in the field thanks to a heavy focus on training and gaining experience with various clients. The team and training enabled me to scale up my knowledge across all aspects of digital marketing. I then moved from executing the work to consulting and strategising for clients, and I'm now in charge of the performance across all clients. I'm really proud to work with such an amazing team of talented people." – Clotilde Watson, Performance Director
Pete Hibbard – Operations Director

Pete has been with Innovation Visual from its infancy and has been a part of the company's growth. Pete has a comprehensive knowledge of all technical aspects of digital marketing and has a proven track record of delivering results through data-driven marketing campaigns. His role has expanded in line with the expansion of the business and now focuses on the day-to-day running of the team and ensuring the delivery of results for all of our clients.

"Being involved in the growth of Innovation Visual over the past few years has been an exciting and rewarding experience. The promotion to Operations Director is really the icing on the cake and I'm excited to see what the next few years hold, as we continue to grow both our client base and our brilliant team." – Pete Hibbard, Operations Director
Career Development at Innovation Visual
At Innovation Visual we believe in heavily investing in our team to provide them with training and assist their personal development. We are committed to providing each member of our team with the opportunity to do at least 8 hours of training a month, which not only keeps them knowledgeable and at the forefront of digital marketing, but also aids their career progression.

We aim to promote from within the company and reward our employees for their great work and dedication to Innovation Visual. Throughout the business, our employees have risen through the ranks and have been rewarded for their hard work as the business has grown and developed.

"At Innovation Visual, part of our ethos is to invest in our people with an approach to career development within our team. We aim to provide them with opportunities to aid their progression and personal development, whilst ensuring to reward their hard work. We always look to promote from within our team and I want to say congratulations to Pete and Clotilde on their recent promotions to Directors." – Tim Butler, CEO
We Are Hiring
As a growing business, we have a variety of roles that may be perfect for you. If you are a great digital marketer and want to work for a business that invests in its staff, we want to hear from you! Get in touch or send your CV to ellen@innovationvisual.com.